Paul Thomas Anderson's 'Junun' Premiere Makes MUBI an Auteur's Paradise
The future of art-house movies is piping them straight to your house.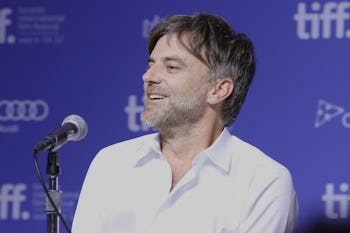 Getty Images
Paul Thomas Anderson is skipping the cinema. The director's newest film Junun is set to take an unorthodox route from its Thursday premiere at the New York Film Festival, foregoing a theatrical release to head straight to online streaming service MUBI. It's a rare first for the relatively young site, and a rare showcase of how movies from auteurs such as Anderson will be seen in years to come.
We've explained MUBI's intuitively brilliant, anti-Netflix streaming scheme before. The site offers only 30 movies at a time, and unlike Netflix or Amazon Prime, which have thousands of titles available at a given time, MUBI cuts it down to a manageable amount with a title added and taken away each day.
Junun, a documentary that tracks Radiohead guitarist Jonny Greenwood's trip to India to record an album with Israeli performer Shye Ben Tzur, will inevitably be added to the top of the list.
Anderson has accumulated film-snob clout with Boogie Nights, There Will be Blood, The Master, and Inherent Vice. MUBI scored with getting him to premiere Junun — an hourlong digital film — on the streaming service.
It's part of what MUBI has hoped to do since its 2007 launch. "The founding vision of MUBI was to build a place where a director such as Paul Thomas Anderson could premiere a unique film like Junun," Efe Cakarel, founder and CEO of MUBI, said in a release. "To be here today is not only an honor and a significant milestone but a realization of everything we dreamed of in the beginning."
A MUBI worthy of showcasing top new projects is a win for directors as well. Anderson's films aren't huge box office draws, but they're culturally significant — and freed from the studio pressures of theatrical releases, they don't need to make much money, relatively speaking, to become financially viable. If the move works, high-profile auteurs can chase smaller passion projects. Between making $100 million blockbusters, Christopher Nolan can make the kind of compact thrillers he made before Batman. Quentin Tarantino can just skew every film idea he can muster because he's the type of guy that lives and breathes cinema. Even if it's just a small, one-off fragment, it makes MUBI a sort of auteur's paradise, a laboratory for the best of world cinema.
That's the hope, anyway. It could also prove to be fruitless if it can't make a buck. Time will tell if Anderson's little movie will be the next step MUBI needs for a Netflix-type game change. In the meantime, at least there's a new Paul Thomas Anderson movie to enjoy. As always, the sea change happens later.