Paul Thomas Anderson Will Debut Jonny Greenwood Film at NY Film Fest
It's all about recording an album in India.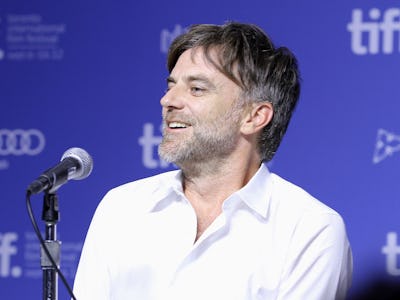 Getty Images
The Film Society of Lincoln Center just announced that a new, previously unannounced film by director Paul Thomas Anderson will premiere at this year's New York Film Festival. Titled Junun, the 54-minute film will be a documentary chronicling Radiohead guitarist Jonny Greenwood's trip to India to record a solo album. Greenwood previously scored three of Anderson's films including Inherent Vice, The Master, and There Will Be Blood.
Here's a description of the film from the NYFF's website:
Earlier this year, Paul Thomas Anderson joined his close friend and collaborator Jonny Greenwood on a trip to Rajasthan in northwest India, where they were hosted by the Maharaja of Jodhpur, and he brought his camera with him. Their destination was the 15th-century Mehrangarh Fort, where Greenwood (with the help of Radiohead engineer Nigel Godrich) was recording an album with Israeli composer Shye Ben Tzur and an amazing group of musicians: Aamir Bhiyani, Soheb Bhiyani, Ajaj Damami, Sabir Damami, Hazmat, and Bhanwaru Khan on brass; Ehtisham Khan Ajmeri, Nihal Khan, Nathu Lal Solanki, Narsi Lal Solanki, and Chugge Khan on percussion; Zaki Ali Qawwal, Zakir Ali Qawwal, Afshana Khan, Razia Sultan, Gufran Ali, and Shazib Ali on vocals; and Dara Khan and Asin Khan on strings. The finished film, just under an hour, is pure magic. Junun lives and breathes music, music-making, and the close camaraderie of artistic collaboration. It's a lovely impressionistic mosaic and a one-of-a-kind sonic experience: the music will blow your mind.
Here's video of Greenwood performing with Ben-Tzur in 2014:
The new movie may not be much of a shock to Anderson or Greenwood superfans. The guitarist announced in February that he was working on a new solo record in India. Eagle-eyed Instagramers may have even noticed that British photographer Ian Patrick snapped photos of Greenwood and Anderson behind a camera in India on his personal page in February.
A documentary is a slight departure for Anderson, who toyed with the genre in the 1988 mockumentary The Dirk Diggler Story, which he later expanded into Boogie Nights. Anderson's last feature, the drug-hazed Thomas Pynchon adaptation Inherent Vice, also premiered at NYFF. Since then he directed squeaky-voiced siren goddess Joanna Newsom's video for her song "Sapokanikan."