When NASA Astronauts Land on Earth, a New Mission Awaits: Space Advocacy
What do astronauts do when they're not in space? A lot of talking.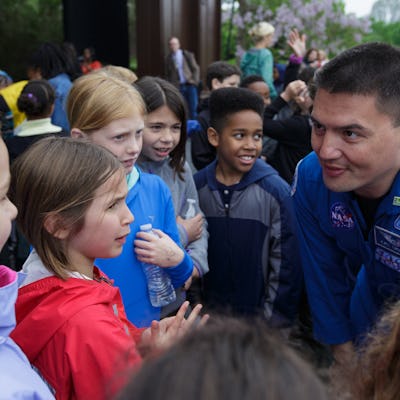 NASA Flickr
Astronaut Kjell Lindgren sits in a crowded room at the Smithsonian National Air and Space Museum on a recent Tuesday morning, wearing his royal blue — NASA blue? — flightsuit, with patches for 100 days in space and reaching Mach 25 (19,181 mph) sewn onto the left chest. Put simply, he looks cool.
The look is part of NASA's campaign to get more people to care about space science and exploration, one that astronauts resume each time they come back to earth. Lindgren blasted into space for the first time last year and spent five months aboard the International Space Station before returning in November. Since then, he has been going through the post-flight motions typical of most NASA astronauts who are between missions.
"You all are the generation that is going to Mars," Lindgren tells the crowd of mostly school-age kids.
Lindgren sat for an hour taking questions from the audience in the middle of the museum's "Moving Beyond Earth" exhibit, and narrated an incredible video showing highlights from his mission: from his launch aboard a Russian Soyuz rocket in Kazakhstan to the experiments he conducted in fluid dynamics, thermodynamics, and human health. And of course, how to avoid boredom (play a lot of games with your ISS roommates).
As he sat in his jumpsuit, he talked about his work with an air that put the audience at ease and made his mission seem, well, down to Earth. "Video games do come in handy," said the 43-year-old Lindgren when describing how to use the robotic arms on the ISS.
Lindgren never directly talked about what his life has been like in the months since he came back to Earth, but he didn't have to. It was clear what he — like other astronauts before him — was tasked with in the post-spaceflight duration. He was there to represent NASA and inspire kids to take an interest in space. At some point, he described the ability of his fellow astronauts to communicate their work to the population at large as critically important.
This doesn't simply mean describing space travel in a way that's understandable to the public. Lindgren's work goes a few beats further and attempts to humanize space travel, to make it seem like anyone with a passion can become an astronaut. Discussing brewing coffee, underwear, exercising, pranks — all in the same talk — demonstrates the ways space travel is a reflection of everyday human behavior, even when it's something as mindless as brewing coffee.
Despite Lindgren's shiny blue NASA garb, the subtext of the entire talk was that he was one of us.
Lindgren's tour of D.C. this past week included a Reddit AMA, officiating a "Presidents Race" during a Washington Nationals game, and hosting a livestream on Facebook. He's the latest in a string of astronauts NASA uses to galvanize good will about its mission. Other ambassadors include David Bowie cover artist/astronaut Chris Hadfield, who plays an active role in promoting planetary defense initiatives against potential threats posed by asteroids.
There's America's senior space advocate, Buzz Aldrin, who's pretty much been campaigning for space exploration since he retired back in the summer of July 1971. His latest endeavor is to tell us all to get our asses to Mars.
And of course, there's Scott Kelly, whose return from his (almost) Year in Space mission will be followed by almost another year's work related to studying the physiological effects of longterm space travel.
Lindgren can't be as freewheeling as he might be if were a former astronaut, though. He's an active astronaut who hasn't retired — and therefore, he is still expected to represent NASA's best interests. This was clear enough in my chat with him the day before over the phone.
When I asked him what were some parts or functions of the ISS that needed improvement or new features that ought to be implemented, Lindgren struck a neutral tone and talked about how the station was in great shape. It's hard to believe Lindgren couldn't list a single issue he had with the spacecraft — even after 15 years of continued human occupation. Lindgren was going to stick to the official line no matter what.
Astronauts have always played the dual role of space explorer and public figure, but NASA seems to be making a concerted effort to double-down on the latter in an effort to push space travel deeper into the minds of the public. With talk about traveling to Mars, setting up colonies on the moon, and making serious strides toward finding extraterrestrials, the agency's moves seem to be working.