NASA Chief Says "Mars Does Matter" During State of NASA Address in Virginia
"The state of our NASA is strong," says NASA Administrator Charles Bolden.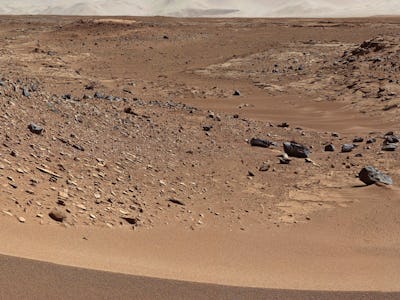 NASA
NASA Administrator Charles Bolden said that "Mars matters" today during a State of NASA speech at Langley Research Center in Hampton, Virginia, despite the relatively small amount of money proposed for planetary science in the NASA 2017 fiscal year budget.
Bolden stressed that "the state of our NASA is strong," and that "we're able to walk and chew gum at the same time," which just means that President Barack Obama's 2017 NASA budget request of $19 billion isn't only meant for white dudes going into space — it's meant to foster practical benefits now while looking into the future.
If not for its continuous thread of progress in diversity, it would have read simply as a cheesy job ad, but Bolden seemed sincere in his message that NASA is breaking down boundaries not just in the cosmos but here on Earth, in America. Bolden set the stage, first recognizing the achievements of Katherine Johnson, an African-American female engineer who started working for NASA during the Civil Rights era and received the Presidential Medal of Freedom last year.
He continued to allude to the notion that the future of NASA aims not just for Mars but for diversity and economic growth here on Earth, pointing out that the latest class of eight NASA astronauts has an equal number of men and women for the first time in history, and that through February 18, NASA is still accepting applications "for diverse astronauts who will help blaze the trail to Mars."
"As we speak, there are Americans working today in virtually every state in jobs that are funded by NASA investments," he said.
Bolden really hammered it down, stating that everyone — bipartisan government officials, commercial investors, citizen scientists, and NASA — agrees that the journey to Mars is going to work, and it's going to be good. (Obama's NASA budget request is for "$1,519 million for Planetary Science, keeping on track the Mars 2020 rover and the next selection for the New Frontiers program and including formulation of a mission to Jupiter's moon Europa.")
"We are closer today than ever before in human history to sending American astronauts to the red planet," he said. Still — it's not likely, but possible — that another country could beat us to it.
Part of the reason for the consensus, according to Bolden, was because NASA has a plan that is clear, affordable, sustainable, and obtainable, although congress has recently asked NASA to draft a real plan. "And another reason is simply because Mars Matters. Mars does matter," Bolden said.