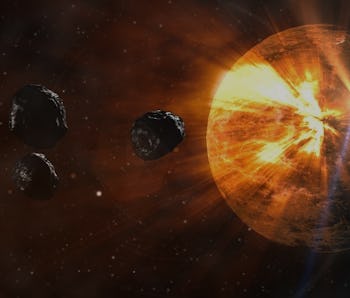 Science
Asteroid Day Aims to "Protect Our Planet" From "1 Million" Asteroids
Mark your calendars, Asteroid Day is June 30.
Public domain
At 3 p.m. local time today, in Noordwijk, the Netherlands, the European Space Agency kicked off its Asteroid Day with Queen's "We Will Rock You." Seriously. And no one in the audience showed any sign of infectious enthusiasm. And perhaps rightfully so. I don't want to call the ESA stuffy, but the $5 billion agency don't exactly seem like a natural fit for classic rock anthems. What's going on?
It probably has to do with the fact that Brian May — best known as the lead guitarist for Queen — co-founded Asteroid Day. May, if you didn't already know, is an astrophysicist, and Asteroid Day is sort of a passion project of his.
The second-annual Asteroid Day, of which the ESA is a prime partner, will take place this year on June 30 — the anniversary of the largest asteroid impact on Earth in recent history (the Siberian Tunguska event in 1908). For the second year in a row, the world is going to come together, and once more, as the official Asteroid Day language declares, "learn about asteroids and what we can do to protect our planet, our families, communities, and future generations."
The alarmism is on purpose. Within five minutes of the start of the conference, Stuart Clark, the famed astronomy journalist, mentioned that the upcoming speakers were going to dive into and discuss "the need to study asteroids and develop understanding of the potential threat they pose."
Threat?
That idea actually speaks to the genesis of Asteroid Day. May and fellow co-founder Grigorij Richters were inspired to create the event after May composed the score for Richter's film 51 Degrees North, a fictional story about an asteroid impact in London. Asteroid Day came together rather quickly after May brought on board members of the B612 Foundation, an American non-profit that focused on bringing attention to the threat of dangerous asteroids and preventing disaster through early detection.
Fast-forward to June 30, 2015, and the world witnessed the first-ever Asteroid Day. More than 150 individual events were held across the world, with help from 36 astronauts and institutions like the American Natural History Museum, the Science Museum in London, the UK Space Agency, and, of course, the ESA.
It seems a lot of people are taking the prospect of a dangerous asteroid collision seriously — and not just because of recent events involving meteorites.
Is the threat of asteroids really a big deal? Depends on how you look at it. Of the 1 million asteroids the founders of Asteroid Day say have the potential to hit the Earth — and for this writer, I would imagine they're using a very liberal set of parameters to measure potential — we've only discovered one percent.
No, asteroids don't crash into Earth every day. But they have in the past — including one responsible for creating our moon, and another responsible for killing off the dinosaurs and most other life from the planet. The odds are slim we could be hit by something so devastating again, but small asteroids actually strike our planet a lot more than we think. To date, NASA says it has discovered 95 percent of potentially hazardous asteroids and comets larger than 1 kilometer — the size that actually poses some level of real danger.
"The more we learn about asteroid impacts, the clearer it became that the human race has been living on borrowed time," May once said.
Asteroid Day this year has over 20 partners from around the globe.
The centerpiece of the event, the 100x Declaration, which calls to increase the discovery rate of asteroids to at least 100,000 (or by a factor of 100) over the next ten years, now has 200 signatures from notable scientists, astronauts, space experts, and celebrities.
And some really smart names have signed on, including Stephen Hawking (who will be part of Asteroid Day's activities at the Storms Festival in Tenerife, Spain on June 30), astronauts Chris Hadfield and Ed Lu (a founder and current CEO of B612), and the head of ESA's Asteroid Impact Mission Ian Carnelli. That mission would send a space probe to a near-Earth asteroid in hopes of better understanding asteroid behavior as part of research into asteroid impact and deflection possibilities.
"We think asteroid impacts are an ongoing global hazard, which threatens our society and ultimately civilization itself," Tom Jones, a four-time astronaut and a board member of the Association of Space Explorers, said during Tuesday's press conference. By virtue of having been in space, he and his colleagues, he argues, have an understanding of how dangerous asteroid impacts are that very few people on Earth do. The threat is real.
Where's NASA?
If you've been paying attention, you've probably noticed there's a shadow looming over Asteroid Day, and that's the absence of NASA. You would think that if the dangers of asteroid impacts really were such a big deal, the biggest space agency in the world would want to be involved — especially considering how serious it is about the multibillion dollar Asteroid Redirect Mission.
It turns out, the agency most probably will be involved. In an email, the head of NASA's Planetary Defense Coordination Office, Lindley Johnson, wrote that the assumption NASA won't be involved in Asteroid Day 2016 "is a false assumption. We participated last year with an event in conjunction with our Small Bodies Assessment Group (SBAG) meeting which was occurring at the same time, and most probably will again this year as the SBAG will be meeting on days surrounding June 30." Though he admits NASA had some issues with how last year's event was implemented, he and others are already in talks with this year's organizers.
There will be a lot to dig into on June 30. Wherever you are in the world, chances are there will be some kind of Asteroid Day event happening close by. And if not, you can always start your own event. Check out the official webpage to learn more.