'Inside Amy Schumer' Tackles Gun Control and Calls Out NRA-Bought Senators
Last night's episode of 'Inside Amy Schumer' thrusts the big issue of gun violence under the spotlight.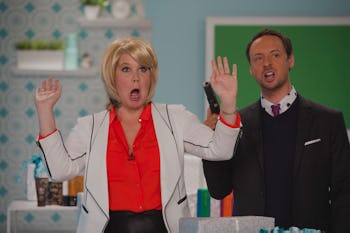 Amy Schumer came out swinging even harder in the second episode of this fourth season of Comedy Central's Inside Amy Schumer.
Last week, we talked about the ways in which Inside Amy Schumer's returned somewhat changed in Season 4. Amy's different, the focus of some of her sketches and interviews are different, and there's a new perspective at work. What hasn't changed, though, is the show's willingness and ability to deftly tackle big, important issues, particularly as they pertain to women.
Thursday night's episode, "Welcome to the Gun Show," highlighted the enormous threat of gun violence and the glaring omissions in America's loose patchwork of regulation; tackled misconceptions; and even ran an onscreen laundry list to shame "Top Recipients of Gun Lobby Money in Congress."
In true Inside fashion, the takedown of the gun lobby was swift and incisive. The opening sketch railed expertly against the availability of guns to people clearly not suited to carry handheld killing machines, and made it clear where the blame lies. It made brilliant use of the entire screen and the Home Shopping Network spoof format, pulling so much information into the scene that it was almost difficult to catch every comment, every callout.
The sketch moves into a portion of Schumer's standup wherein she talks about the theater shooting that took place during a showing of Trainwreck in Louisiana last summer. She talks about the two young women who were killed, about getting involved in a political issue as a celebrity, about the ability to affect change from her platform.
In this month's cover story for Vanity Fair, Schumer talks about the shooting, about feeling "helpless and stupid" in the wake of the tragedy
"The idea of people trying to go out and have a good time, you know, like looking forward to it?—I don't know why that makes me the saddest," she told Vanity Fair. "So my publicist told me. And then I put on the news. I was by myself in a hotel, and I was just like, I wish I never wrote that movie."
In the Vanity Fair story, Schumer goes on to talk about working with her cousin, Senator Chuck Schumer (D-NY), to try to enact gun safety with Aiming for Change, a campaign focused on rallying support behind legislative measures that would increase protective measures against guns getting into the hands of people not equipped to handle the responsibility.
At the end of the episode, in the "Amy Goes Deep" segment, Schumer talks to Brina Milikowsky, the Chief Strategic Officer of Everytown For Gun Safety, a movement working to make the United States safer from the threat of gun violence.
Here, Schumer and Milikowsky talk about the misconceptions surrounding gun control, particularly the idea that it's about "trying to take all your guns away."
Milikowsky explains that Everytown is laser-focused on public safety, not impeding gun rights for law-abiding citizens. The mission, she says, is "doing more to keep guns away from dangerous people."
The focus on gun safety in "Welcome to the Gun Show" finds Inside doing what it does best — rallying around important issues and talking about them in smart, impactful ways without being reductive. It's clear from Schumer's comments on the shooting in Louisiana and on the issue of gun safety as a whole that this is of deep personal importance to her.
"Welcome to the Gun Show" is evidence that even if Inside changes around Amy's fame, its commitment to talking intelligently about real issues through comedy is the show's lifeblood, not whether or not she's the relatable "it me" figure. Whether it's women's health, harassment online or IRL, objectification, sexism or gun safety, Inside proves that approaching discourse through comedy can be wildly effective. Inside hasn't lost its edge, and "Welcome to the Gun Show" proves it.