Inside Amy Schumer' Season 4 Feels Totally New
Amy Schumer's return was bound to be different after her stellar 2015, but change ain't always bad.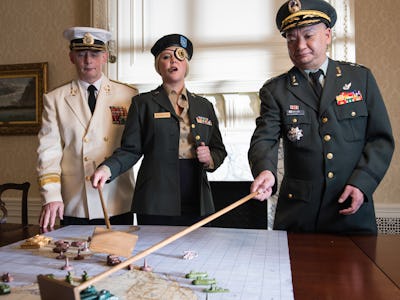 Comedy Central / Amy Schumer
Inside Amy Schumer kicks off its fourth season with "Most Interesting Woman." Things are different now. This isn't the Inside Amy Schumer we experienced for the first three seasons. But it's still fantastic.
Amy Schumer's changed. She had a big fucking year in 2015: a hit film in Trainwreck, an Emmy win, a comedy special, and a gig hosting an awards show. She's not the comedian that your friend sent you YouTube clips of four years ago. She's a goddamn star now; so, of course, she's changed, and Inside had to change right along with her.
The premiere of this season's Inside Amy Schumer leans into Amy's fame. We're treated to a sketch with Lin-Manuel Miranda (with special appearance by Questlove!) in which Amy pitches the Pulitzer Prize-winning visionary behind Hamilton a "hip-hopera" about Bethany Betsy Ross with some true gems like, "If you don't sew, now you sew" and "I am not throwing away my mop."
The street interviews are notably absent from the premiere, swapped out for close chats with the likes of Amber Tamblyn, Mia Jackson, Judy Gold and Rachel Feinstein in a bar. And it works.
It's abundantly clear in parts of the episode (particularly the sketch with Lin-Manuel Miranda and the Amy Goes Deep segment) that Amy Schumer's not "just like us" anymore. She's a big deal, she's super successful — and she's got super famous friends. The show doesn't necessarily have as many of the "it me" or "been there" moments because, well, she's not us and we probably haven't been there. If we're being honest, Amy hasn't been one of us for a long time, and that's just fine. It doesn't stand in the way of the incisive and clever writing, or Amy's commitment to issues like women's health and rampant sexism in the entertainment industry.
Sure, Inside Amy Schumer has changed, but not in a way that makes it less funny. It's up to us to eschew the notion that Inside only works with old Amy, because that's not the case. We're going to see different stuff, we're probably not going to like all of it, and that's okay. We wouldn't have liked it if the show came back just to rehash the well-charted territory of the first three seasons, either. Because, if we're being honest, after so many "it me" moments, that shit gets boring. We are kind of boring. It's human. It's fine. But let's see something new.