Everything We Know About the 2Pac Biopic
After sitting in production hell, the most anticipated hip-hop movie of the year is finally finished shooting.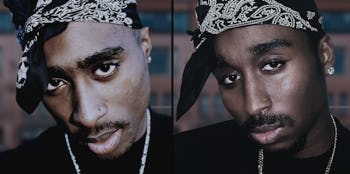 alleyezmovie/Facebook
In the wake of the success of Straight Outta Compton, one of the various hip-hop biopics to be mentioned as a successor was the story of West Coast icon Tupac Shakur ("2Pac"), produced by Morgan Creek.
Now it seems the film is on the fast track for release in November, with shooting completed. The final title of the film is All Eyez on Me, named after the rapper's 1996 album.
In early 2015, Legendary Boyz n the Hood director John Singleton's name was brought up in attachment with the project, as well as actor Marcc Rose, who played the rapper (briefly) in Straight Outta Compton.
In April, however, Singleton announced to XXL that he was off the project, and raised questions about the ethics of the production: "The people involved aren't really respectful of the legacy of Tupac Amaru Shakur…. How you gonna make a movie about a man when you suing his mother to get the rights to tell his story?!"
Singleton is referring to Morgan Creek's 2009 suit against Shakur's mother, Afeni, for the film rights. However, last year, producers claimed that Mrs. Shakur was a producer on the potential project.
Another announcement came in August and September of last year, with a cryptic Instagram post by producer Randall Mogul, who thanked several celebrity backers including 50 Cent and Mark Wahlberg. He also noted that shooting was scheduled to being in December.
After a short-lived rumor that Devil in a Blue Dress director Carl Franklin would be signing onto direct, Morgan Creek announced the involvement of noted hip-hop music video director Benny Boom. Demetrius Shipp, Jr. was confirmed for the starring role.
Boom gave details about the film to Billboard in February, confirming that the film would be a uncensored and unbiased version of rapper's life (Straight Outta Compton came under fire for downplaying the members of N.W.A.s violence against women). We're also in for the long haul with this one: the film will start before Pac was born and extend until after his death. He also claimed that the film now has significant support from the Shakur family.
This week, Demetrius Shipp, Jr. revealed that the film has wrapped. Various leaks from the set in the form of one on-set clip and numerous Instagram post from Shipp — have emerged. Here's a clip of Shipp, playing Pac's movie 1994 courthouse speech:
Compare the clip with the original if you like. There's no question that Shipp is a dead ringer for the late San Francisco-area rapper.
There's also a prolific Instagram for the film, showing multiple shots of cast member Dominic L. Santana as infamous Death Row Records mogul Suge Knight. Here's a shot taken during the filming of the shooting scene, which apparently drew a huge crowd, who eared that it was a real shooting — in downtown Las Vegas (as have many of the on-site shoots):
In other news: One of the name actors you can look forward to in the film will be Jamie Hector, best known as The Wire's Marlo Stanfield. Hector will be playing Shakur's stepfather.
We can expect to see All Eyez on Me before the end of this year (imdB lists November 11th, though Morgan Creek's marketing head stated to Inverse that there is no definite date yet). Hopefully, it will prove to be better thought-out and less insensitive than either Straight Outta Compton or the Nina Simone biopic, whose development was similarly troubled, and vehemently challenged by her family.