Why Do People Hate the Nina Simone Biopic So Much? Look at Its Trailer and Poster
The April film may star Zoe Saldana, David Oyelowo, and Mike Epps, but it doesn't look very Nina Simone.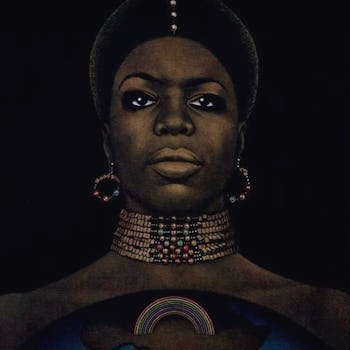 Nina Simone Facebook Page
Finally, the movie that no one really seems to want anymore is coming out — on April 22 — and the world has its first glimpse of footage through Entertainment Weekly. The Nina Simone biopic, Nina, has been in various stages of development, turmoil, and possible non-existence for over five years.
The biggest source of controversy was the casting of Zoe Saldana as Simone, who fell short of matching the singer/songwriter's appearance in any way. Since Simone's particular looks and unique position as a dark-skinned African-American woman attempting to make it in the music industry are a major part of her life story, many objected to the casting of Saldana, including Simone's own daughter. Saldana certainly doesn't remotely resemble Simone, and not making a more daring casting choice seemed like a disservice to the musician's legacy.
The release of the chintzy, airbrushed poster yesterday didn't win the controversial movie any points:
So, witness Saldana in a fake nose, portraying the brilliant, genre-bending artist during the most difficult point of her mature life, in this new trailer. The whole thing seems like an ill fit for the 37-year-old actress, who has built her reputation in major Hollywood blockbusters like Avatar and Guardians of the Galaxy.
Watch the official version here at TODAY.com.
Whether, structurally and stylistically, Nina will offer anything beyond the normal biopic conventions remains to be seen, but judging by the information we have, things don't look promising. The first returns indicate a frame story that explores Simone's expat life during a break from performing — similar to the doubtlessly superior Don Cheadle-directed Miles Ahead, which is also set to hit theaters soon — and flashbacks to take the rest of her career into account.
Sure, Simone's story is extremely powerful and unique — perhaps enough to transcend a pat structure. But the often-great Saldana just doesn't seem like the right person to do Simone's very particular mannerisms, commanding elocution, and sense of humor justice. Especially after Netflix's excellent and comprehensive doc of last year, the prospect of watching a possible two-plus hours of an even slightly caricatured Nina seems like a thoroughly unappealing proposition.
If you're very, very against it, you can even join this "Boycott the Nina Simone Movie" Facebook group.