Canadian Researchers Will Throw a Dinner Party to Buy Two Pounds of MDMA
At $50 per pharmaceutical-grade dose, researching the drug's effects on PTSD isn't cheap.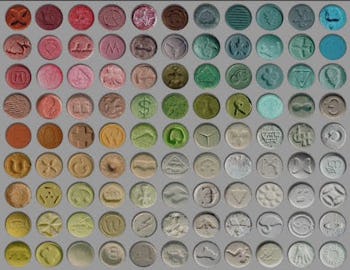 https://sites.google.com/site/dontpopamolly
A team of Canadian researchers want you to help them buy MDMA. A lot of it.
The Canadian branch of the Multidisciplinary Association of Psychedelic Studies needs roughly 2.2 pounds of the drug — that's close to 4,000 tablets — to complete their next round of studies on using MDMA to treat post-traumatic stress disorder, and so they're throwing a dinner party in Victoria, British Columbia on Thursday.
Donations from the event, part of an international series of "Global Psychedelic Dinners" sponsored by MAPS, will go toward paying laboratories to manufacture pharmaceutical-grade MDMA pills, which MAPS needs to complete the Phase 3 clinical trials needed in order to get approval for MDMA-assisted psychotherapy as a legal PTSD treatment. The organization, which has supported psychedelic studies since 1986, reports that its preliminary trials using MDMA-assisted psychotherapy to treat PTSD have shown success rates of 83 percent.
The Global Psychedelic Dinner, co-sponsored by a company called Conscious Thought Revolution, will feature talks from local psychedelic expert and journalist Ross Crockford and MAPS founder Rick Doblin, Ph.D., together with an appearance by "intuitive healer" Warren King and music from DJ Joshua James, who specializes in "creating music that truly takes you on a journey." The event website provides a breakdown of their costs; a donation of $50 pays for a single 125-mg dose of MDMA, while $2,500 covers the costs of 30 sessions of MDMA-assisted psychotherapy.
Previous MAPS research has shown a lot of promise. One of the organization's U.S.-based studies on PTSD has just completed a successful Phase 2 trial on 136 people, including army and marine veterans as well as 9/11 first responders. Six of those individuals were based in British Columbia. Other studies have focused on using MDMA to treat PTSD in female survivors of sexual abuse.
Studies using MRI brain imaging have shown that MDMA reduces activity in the amygdala, the part of the brain controlling the fight or flight response that also appears to be hyperactive in people with PTSD.
In another recent San Francisco-based MAPS study, MDMA-assisted psychotherapy was shown to help patients with anxiety gain clarity and reach personal epiphanies at a manageable pace.
MDMA won't be approved as a legal medication in the United States until it's proven to be safe and effective after large-scale Phase 3 trials. As the study MAPS is planning to run won't be completed until 2017, MDMA is not likely to be approved until at least 2021, MAPS' director of communications Brad Burge recently told Inverse.