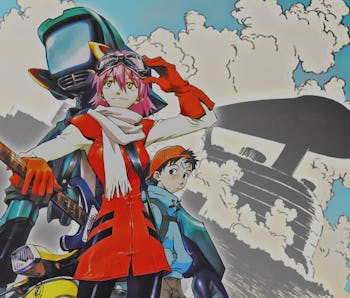 Entertainment
The Adult Swim 'FLCL' is Coming; Here's What To Expect
With the second season approaching, here are our thoughts on what's to come.
Funimation
FLCL first aired on Japanese television in 2000 and ran for only six episodes. The small number of episodes was intentional, but the series still developed a cult following and was acclaimed as one of the most imaginative and inventive anime series ever released.
Now, 16 years later, Adult Swim has announced that it is working together with Production I.G, as well as FLCL's original character designer Yoshiyuki Sadamoto and director Kazuma Tsurumaki, to develop a second and third season for the series, each running with the same number of episodes as the first. The seasons are timed to air sometime in late 2017 or early 2018.
So while we don't know much of what to expect outside of a quick synopsis, here are our thoughts on what to expect:
More plot
The show was likably sporadic and nonsensical, and its frantic plot was overshadowed by the coming-of-age tale which emerged from the original's animation and use of metaphors. These new seasons will have to continue the fight from where Naota and Haruko ended and explain a little bit more of what's happening with Medical Machanica and the Bureau of Interstellar Immigration. In order to continue the story, the sci-fi plot will definitely have to be expanded, especially if the show is continuing for 12 more episodes.
Less Experimenting
The director of FLCL Kazuma Tsurumaki admitted to wanting this show to push the boundaries of anime. He wanted a contemporary Japanese band to contribute to the soundtrack, which was a first at the time. In an interview with Pulp back in 2006, Tsurumaki said he intended the series to be "more the style of a Japanese TV commercial or promotional video it's short, but it's dense-packed."
The original was strange and compact and intentionally crammed, but as much as Tsurumaki may have new ideas for the sequel and may want to try something else experimental, he's still continuing a series which already used those techniques and needs to keep those for at least some continuity. Fans of the show will be expecting something similar to the first season.
Weird shit
As much as it's considered an artistic gem, FLCL's total three hours of forehead horns, Vespas, sexual innuendo, and slapstick comedy make the anime one of the strangest views ever. The new two seasons won't disappoint, either. Everyone is expecting the strangest of the strange to pour out of the screen (or more foreheads) and the director is very aware of this. At least he should be. There's no FLCL without brow-raising circumstances.
Naoto and Haruko's location
When the sequel was announced, most wondered about where the anime would continue from, and how they'd manage to get something put together so quickly. Later, the same people then wondered how Haruko and Naota would show up in the new series. Already Haruko is slated to appear in the new season by Adult Swim's description of the show, which mentions our Vespa-driving meddler as a schoolteacher. Naota wasn't mentioned, but there's no way he's missing out on the fun, and we're sure he'll be popping at some point in season 2.
Upset Fans
FLCL has become a cult classic with six episodes of high-speed action, comedy, and weirdness, and it's considered some of the most experimental and wacky animes ever produced. It is a jam-packed coming-of-age story embedded into fights with robots and a rollicking rock soundtrack.
Having done this tale with Naota, the show will be following Hidomi, a high school student who fears that nothing will ever happen in her town. Despite some of the same team working on the show, there are bound to be quite a few people who aren't ready for change. Admittedly FLCL doesn't really need a sequel, but just like all of the other reboots and sequels and prequels we've been inundated with, we're getting it anyway, and we'll just have to see how it's executed. Hopefully it'll still have that same charm, and even if it doesn't, it'll still be entertaining to watch.