These Kids Are Getting Black Belts in a Syrian Refugee Camp
One of the world's largest refugee camps is probably the last place you would expect a top-notch Taekwondo academy. 
by Christine Jun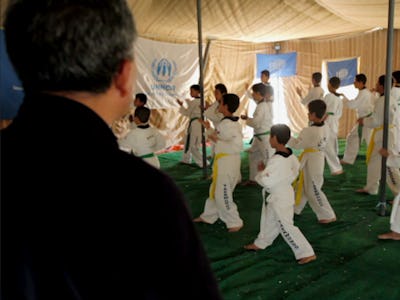 Ellen Martinez and Steph Ching's new documentary After Spring features some pretty harrowing statistics. With the Syrian conflict in it's sixth year, already close to 80,000 Syrian refugees live in the Zaatari Refugee Camp in Jordan, the second-largest such camp in the world — and fifty-eight percent of the inhabitants are children.
After Spring not only immerses us in the daily lives of two Syrian refugee families. The documentary also includes the more unexpectedly zany aspects of camp life, which is a self-sustaining town. (Zaatari is now the fourth largest city in Jordan). There's the bustle of it's urban center, which includes a pizza parlor, and even a shop humorously named "Stop, I have something I need to tell you." And then there's South Korean master Charles Lee's Taekwondo Academy, where a startling amount of youngsters — both male and female — are already bona fide block-kicking black belts.
Commuting weekly from Amman, Jordan where he lives with his wife, Lee constructed the TKD academy in the Zaatari refugee camp. Like many foreign aid workers, Lee, who speaks no English and only basic Arabic, is an unsung hero of the camp — providing martial arts instruction and positive support to the Syrian children. Lee even paid for the academy's roof with his own money, and still chauffeurs the kids back and forth from the school in his pick-up truck. No stranger to hardship and suffering himself, Lee explains his motivation in the documentary: "I don't think of it as work, because Korea was in a similar situation…especially war. We know the pain of it."
Lee's academy provides purpose and education to children who have been uprooted from their homes, withstood air raids and bombs, and witnessed their own family members murdered; in the film they are often referred to as "the lost generation." Once the kids reach Zataari refugee camp, their lives are still stressful. A tense atmosphere and a high unemployment rate results in random fights and scuffles on the roads after dusk. Food and medical resources can be scarce, and in the middle of the desert, the children can still often hear shells exploding on the Syrian side of the border. Many of them suffer from PTSD, and with no end to the war in sight, Lee asked: "How can we really help these kids, raise them up?"
One of the less well-adapted children is Ibrahim, who claims: "I loved studying Arabic and math. Now I go to the bakery to buy bread. And after that, I do nothing." In the film, Ibrahim's father also voices his concern over the unstructured days of the young males in the camp: "Because they don't go to school, many of the little boys behave like men. They want to be smugglers. They can't wait to carry a gun."
But Lee's taekwondo academy is a stabilizing force, which helps to sublimate young people's anger through discipline and focus. Later in After Spring, a black-belted Ibrahim confides: "This school helps a lot. It taught me how to be more calm and understanding."
Another role that Lee's academy plays in the refugee community is one of opportunity and self-empowerment for young Syrian girls. There are just as many female black belts to be seen in the film as males, kicking and punching and shouting under Lee's encouragement. A grinning preteen girl admits that it would be "weird" for her to train in taekwondo in Syria, but that in the refugee camp, it's an accepted norm.
Providing hope where it is direly needed, Master Lee views his taekwondo training in Zaatari not only as a kind of therapy for the war-traumatized children, but something more visionary: his own school for preparing the future generation of Syria. "Because one day," Lee says, "The war will end."