If Rappers Were Delegates, Hillary Clinton Would Win the Democratic Nomination by a Landslide
You thought Bernie was the cool one? Ja Rule doesn't think so.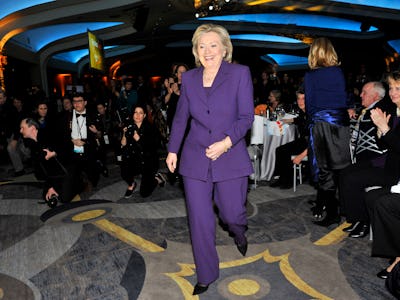 Kris Connor/Getty Images for EMILY's List
One might get the impression, given the tales of Artists for Bernie benefit concerts and the thrust of his campaign, that Bernie Sanders would be the frontrunner for the Democratic candidacy — in terms of rock points. Maybe you've seen a Bernie-themed Phish shirt or two.
However, despite Bernie's apparent appeal to important artists, pop music mirrors the primary results so far, and the political establishment as a whole. A lot of smaller and respected acts like him — plenty of excellent '70s singer-songwriters, from Bonnie Raitt to Van Dyke Parks — and the Red Hot Chili Peppers love him. But when the votes are counted: the brunt is all on Hillary's side.
Sure, she has a lot of Top 40 support in her favor: Lady Gaga, Meaghan Trainor, Demi Lovato, Katy Perry, Ellie Goulding, among others. But Hill's secret weapon? Rappers.
That's right, the hip-hop community overwhelming supports Hillary, despite how vocal youve seen Killer Mike being about the Bern. It's hard to know how many Rock Delegates should be assigned to each, but Kanye must count for a few, right?
"I like Hillary [Clinton]. I like Hillary. But, you know, it's crazy because…I also think Jeb [Bush] is a good candidate as well, but, you know, I don't — I'm a Democrat, so yeah, so I would vote Hillary." — Ja Rule
Other hip-hop icons who have spoken out or campaigned on Hillary's behalf include Snoop Dogg, Pharrell, 50 Cent, Young Jeezy, the Black Eyed Peas' will.i.am, 2 Chainz, Common, A$AP Rocky, Ice-T, 2 Live Crew's Luther Campbell, Pusha T and even Waka Flocka Flame (who had once been planning on running himself). "Hot N——" star Bobby Shmurda even issued a statement from jail supporting her.
Bernie has support from some very important people, even in hip-hop. For one thing, he has serious representation from the most important figures in Houston rap: Bun B from UGK, and Geto Boys luminary Scarface. Also, he's got Nas — who many consider the greatest of all time — the author of modern hip-hop style guide.
Outside of that, the most high-profile supporters come from the ATL: Outkast's Big Boi, T.I., and the boys in Rae Sremmurd. Then, well, there's:
Sure, the Based God brings in a ton of delegates, but that doesn't make up for Hillary's quantity. The fact that white rap demon Hoodie Allen is backing him also counteracts some of B's heft.
The other names feelin' the Bern don't make up the difference: David Banner, G-Eazy, the guys in EPMD, Jadakiss and Styles P (The Lox), and (imitating the Based God again, no doubt) up-and-comer Lil Yachty.
Is it worth talking about the Republican candidates? Trump would definitely win versus Cruz and Kasich, but in the general election — if Swag Points were the only determinator — Clinton would kill him. Rap's most eminent troll Azealia Banks and Kid Rock are the only rap (or vaguely rap-related) artists on Trump's side that we know of. Ted Nugent, Kenny Rogers, and…Aaron Carter are mostly what he's relying on for the rest of his pop star manna.
Ted Cruz, well…he's got Christian singer Twila Paris.
It looks like our nominees are going to be exactly who we have always either latently or patently assumed they would be — unless the Based God can muster a fierce curse.
Does this mean Hill dabbing to Fetty Wap on Ellen paid off?