A Record Number Tuned In To See If Jon Snow Was Really Dead on 'Game of Thrones'
The first episode of  'Game of Thrones' Season 6 saw a record high of nearly 11 million viewers.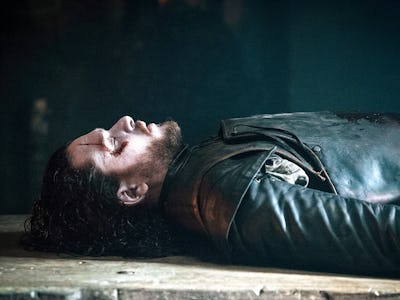 HBO 
It's official: Game of Thrones co-showrunners David Benioff and D.B. Weiss are the Petyr Baelishes of the real world. When they chose to end Season 5 on that cliffhanger of dead Jon Snow, they took a diabolically clever gamble. And it paid off: a record high of 10.7 million people tuned in to watch the Season 6 premiere on Sunday.
And that's just the legal number — reports are already in that millions more pirated it, Victarion Greyjoy style. Meanwhile, the U.K. saw a high of 2.2 million viewers, with over 1 million tuning in to watch the show as soon as it aired, even though it was 2 a.m in the region.
Previously, a paltry 7.9 million people tuned in for the Season 5 premiere.
The world really, really wants to know if Jon Snow will be back. By ending Season 5 on his death and letting us stew over fan theories, rumors and Kit Harington's lies for a year, Benioff and Weiss built their ladder of chaos. Mission accomplished.