Watch Daisy Ridley Practice Her Lightsaber Skills
 It looks like Rey will have an advanced level of Jedi training with Luke in 'Episode VIII.'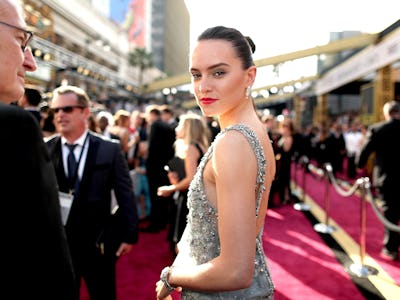 Christopher Polk / Getty
Episode VIII is currently in the full swing of production, which means all of the lead actors have to be on-point. This goes doubly for actress Daisy Ridley, who emerged from The Force Awakens basically as the new Luke Skywalker of the new trilogy of films. You can't lead off Rian Johnson's next Star Wars movie as a lazy Padawan learner. While the last movie saw Ridley's character confront Luke in a far-flung and remote locale of the last Jedi temple with his lost lightsaber from The Empire Strikes Back, it wasn't made specifically clear what her character's next steps would be. We still don't know exactly what they'll be until we see a trailer, but a post on Ridley's active Instagram account gave us some hints.
Her account has recently been a constant stream of training clips, mostly because she probably can't post anything else and you have to be buff if you want to train with the greatest living Jedi.
But her newest post is a choreography training video with veteran stuntman Liang Yang, better known to Star Wars geeks as meme-eriffic stormtrooper FN-2199 in The Force Awakens.
Ridley can be seen twirling a staff, which will presumably stand in for a lightsaber in Episode VIII. If the video is any evidence, her training with Luke — which will hopefully mirror that character's own training with Yoda in The Empire Strikes Back — seems to be paying off.
Instead of that unwieldy, defensive mode she was in against Kylo Ren at the end of The Force Awakens, we can assume that Rey becomes a bit more adept at the favorite weapon of a Jedi next time. Their next meeting looks like it'll be much more evenly matched.
Star Wars: Episode VIII, which hopefully gets a title very soon (maybe like on May 4th: aka Star Wars Day), opens in theaters December 15, 2017.