Penny Dreadful' Premiers Season 3 as a Gothic Western
In Season 3 episode 1, Ethan goes to the Wild West, Vanessa and Malcolm make new friends, Victor reunites with old, vampires arrive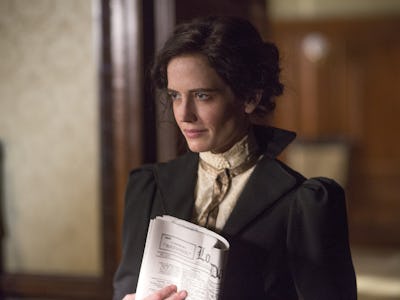 Showtime 
Penny Dreadful is gorgeously gothic, bloody, strange, literary, and occasionally messy. Each week, we break it down. Let's dive into Season 3, episode 1: "The Day Tennyson Died."
"Here I sit before you, resplendently who I am"
In the opening shot of "The Day Tennyson Died," as Vanessa lies among the accumulated filth in the mansion — the dusty furniture, the cobweb-laden dishes — she looks dead. Even though we've seen her in low places before, it's disconcerting. She's always been the central figure the gang rallies around, but now they're scattered to the wind. By addressing it immediately, Penny Dreadful is acknowledging our question going into Season 3: What will a show about chosen families — however strange they may be — look like, with everyone scattered and separate? Will Penny Dreadful be the same show?
When Ferdinand Lyle makes a gloriously droll entrance ("I love what you've done with the place"), he answers this question with a resounding "yes." Its characters might be mentally lost and physically scattered, but the core of Penny Dreadful remains. We see this when Vanessa meets two intriguing new characters — Dr. Seward (Patti LuPone) with whom she banters with about being unconventional women and collecting weird people, and Dr. Alexander Sweet (Christian Camargo), with whom she flirts with about taxidermy.
Some of their dialogue is a little too on the nose ("All the broken and shunned creatures. Someone's got to care for them. Who shall it be if not us?"). When Dr. Alexander sidles up and spills his knowledge, unbidden — and later, when Vanessa quotes Tennyson alone on a windowsill gazing at the night sky — both are moments that could come across as clunky or melodramatic on another show.
But they work because of the unique alchemy of Penny Dreadful. Bring on the sky-gazing soliloquies; the mysterious strangers spewing suspiciously perfect sentiments and the sinister children. This is why we watch this show, and the writers know it.
"Welcome home, Ethan."
Ethan's background has been teased for three seasons now, with constant references to his mysterious past and sinister father. Though we still have yet to meet him by the episode's end, Ethan's homecoming is an atmospheric Wild West delight.
The moment before that train shootout, when the bandits are exchanging glances beneath their hats, is boiling with tension. "I've never seen so much nothing" one of the inspectors says, surveying the barren landscape. That clues us in: This wild and lonely place is the essence of Ethan. He can dress it up with his charm and good ol'boy drawl in London; make himself a caricature to others, but this is who he truly is. Thanks to his new haircut, one man even scoffs, "he doesn't look so dangerous to me." If only he knew.
"All through the night"
Caliban's plotlines have always been Penny Dreadful's weakest; mostly because he's isolated away from the group dynamic. Rory Kinnear's performance is strong, but the writers have never seemed to know what to do with him. By the end of Season 2, his story picked up — his scenes with Vanessa helped — and luckily, it seems Season 3 will continue that trend. Remembering his past is an intriguing new development. Season 3 might just be Caliban's time.
"It is not what it was, but then, what is?"
If Sir Malcolm's story is set to intersect with Ethan's, that holds all manner of possibility. Timothy Dalton and Josh Hartnett have always had a natural chemistry that's been underused. Their potential meeting in America signifies that everyone's scattered states won't last. His new Native American friend is another matter — that's tricky territory, as too often they're represented as cringeworthy stereotypes. Introducing him with a scalping is not promising, though we'll give Penny Dreadful that it's 1892 and see where this goes.
"Love, work, and narcotics. Where do we begin, Victor?"
Victor Frankenstein is friends with Dr. Jekyll. If it wasn't cemented before, it is now: Penny Dreadful is the ultimate gothic lit nerd's fan fiction. Even if their story wasn't compelling, this would be enough, but their frank discussion of their craft gives Victor a much-needed outlet to discuss "all these dreadful gorgeous secrets," as Jekyll says. He's been bottling them up for three seasons now, and having a confidante will take his character in an interesting new direction. Of course, just like in Season 2, whenever Victor turns sympathetic, he takes a turn for the queasy again, with talk of "domesticating" Lily.
"I am Dracula"
Penny Dreadful's biggest weakness has always been its villains and their vague mythology. For three seasons now, there have been sinister mutterings about Dracula and dark spirits wanting Vanessa, but every time the show brings it up, it's pushed by the wayside. At last, Dracula is here, with an army of delightfully creepy minions. Season 3 might just be the one that nails the villain arc. That creepy kid ("savor this day my beautiful lady; my beloved") is already more compelling than the campy witches of Season 2.
Stray Trinkets
When I heard Patti LuPone was returning as a new character, I wondered how they would explain her resemblance to The Cut Wife from "The Nightcomers." It would be odd to not acknowledge it, but it would be heavy handed to linger on it. With just a passing reference to their resemblance and her "distant relation," they handle it well.
The witch Hecate followed Ethan to the New Mexico Territory. Hmm. She also tells the train bandits, "Please sir, you would not harm a defenseless female!"
No Lily or Dorian this week. Presumably they're still dancing a path in blood through Dorian's ballroom while scheming to take over the world.
Victor: "All that anger inside you, all that rage. Have you lost it?" Dr. Jekyll: "That's the essence of my work now. Taming the best within." That doesn't tell us whether this is pre-or post Mr. Hyde, but because this is Penny Dreadful, it's safe to assume he'll make an appearance.
Vanessa and Alexander discussing taxidermy: "I practiced it as a child." "So did I!" Ahh, young love. Never change, Penny Dreadful.
Literary corner: Dr. Seward is a Dracular reference, as is Renfield. On the one hand, Renfield the spy is intriguing, but on the other hand, didn't Penny Dreadful already do a Renfield arc in Season 1?