You Need To Watch 'Penny Dreadful' Season 3
Season 3 starts in May, and it's never been a better time to dive in. It's the weirdest show on TV. It's also one of the best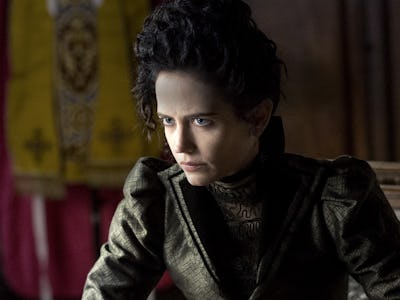 Penny Dreadful is a strange show. And by most it shouldn't work: It mixes high culture period piece touchstones like flowery dialogue, classic literary references, and sumptuous drawing rooms with "low" culture elements like campy chanting witches, spurting blood — often during sex scenes — and wolf-men. And that's not even taking into account the disparate acting styles from its leads.
Josh Hartnett's understated intensity is straight out of an old cowboy film. Eva Green's scenery chewing belongs in avant-garde theatre. Timothy Dalton's mixture of preening, sneering, and pathos are like a brooding and bitter leading man in a Brontë novel. The fact that these threads somehow weave together into a gloriously gothic tapestry is a testament to the show's intelligence. Penny Dreadful is unlike anything else on TV, and it's the perfect dark delight for your spring. Let's take a closer look at why.
You might learn something, or else quench the thirst of your inner geek
If you miss your college seminar discussions of romantic poetry or British literature, Penny Dreadful has you covered. Many shows cater to the least common denominator, but Penny Dreadful is unapologetically bookish. It has overt references — it doesn't get more overt than featuring Victor Frankenstein and Dorian Gray as central characters — and subtler references peppering its dialogue. This is a show that features scenes where characters discuss books and nothing else happens. The dialogue and acting is good enough that it's never boring. Season 3 is sure to bring more Bram Stoker references with Patti LuPone as new character Dr. Seward and some Robert Louis Stevenson with Shazad Latif as new character Dr. Jekyll.
You'll find it never gets too stiff and uptight
Penny Dreadful might like allusions and old books, but it also never takes itself too seriously. Each character and scene is infused with a healthy sense of fun at unexpected moments. Below uptight Doctor Frankenstein has asked Eva Green's Vanessa Ives to help him buy clothes for his latest corpse-reanimation. The catch is that he can't tell Vanessa her true nature. "She's a visiting second cousin, that's it entirely, yes," he says.
It's uniquely sexy
Most cable shows throw in sex like they're teenage boys in a locker room trying to one-up each other. True Blood started it with spinning a woman's head around 365 degrees during sex; fellow Showtime show Dexter did some murder-hatesex and Shameless and Billions are in their own special categories. Penny Dreadful is not immune, though it all appropriately falls under the umbrella of the gothic, with knifeplay sex (Vanessa and Dorian in Season 1) death-fetish sex (Dorian and a blood-coughing Brona in Season 1), and pseudo-incestuous necrophilia (Victor and Lily-Brona in Season 2). But many shows use queer-baiting, layering scenes with homoerotic undertones to the point where you say, "either stop it or just have them make out and get on with it!"
Penny Dreadful actually has the balls to go there. In Season 1, Ethan and Dorian are having a heated conversation, and no sooner do you think that than they do. We can only imagine what Season 3 might bring now that Dorian and Lily are a power couple out to rule the world and Ethan and Vanessa are each spiraling down increasingly dark paths.
Josh Hartnett
Josh Hartnett has always been a character actor trapped in a leading man's body. Earlier in his career, he was typecast as the Bland Leading Man and took many a snoozeworthy role (Pearl Harbor, anyone?). But with Ethan Chandler, he's finally found the perfect role. As an American gunslinger with a good ol'boy drawl, he's got swagger, mischief, pathos, and can be downright sinister. Ethan is far more interesting than a leading man. Season 3 will see him at his most intriguing, as we'll take a long awaited trip into his past, meet the mysterious father who has been teased since Season 1, and watch him come to terms with his inner beast.
Truly bizarre images you won't see anywhere else
True Detective Season 1 offered a few nice oddities — that bird spiral, those crime scenes — but the show ultimately dropped the ball. If you've been hankering for that sense of weirdness ever since, Penny Dreadful has it in spades. Want to see a field of cows fall over? What about a bloody dance? Penny Dreadful stages its weirdness in bold, grand, showstopping numbers.
Season 3 premieres on May 1 on Showtime. Check out its official trailer here.