Dwayne 'The Rock' Johnson Will Star in the 'Jumanji' Remake
The Most Electrifying Man in Entertainment will go savage in a remake of 'Jumanji.'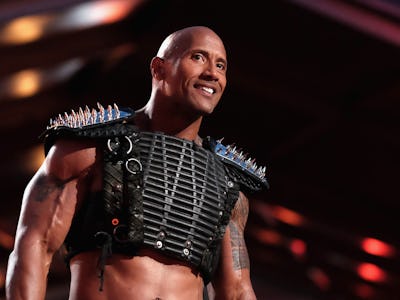 Getty/Jason Kempin
As announced on his ridiculously popular and inspiring Instagram account — 49.4 million (and millions!) followers — actor Dwayne Johnson has signed on to star in a remake of Jumanji, the '90s family film directed by Joe Johnston. The original film starred the late Robin Williams and followed two children as they grappled with their jungle-themed board game coming to life. Shooting begins in the fall, led by director Jake Kasdan (Freaks and Geeks, Bad Teacher, and Sex Tape) for a 2017 release.
So this is perfect casting, right? Dwayne Johnson, a mountain of a man, in a fantasy adventure film which requires him to be a badass. Like when he was absolutely savage as the worst CGI character ever designed in The Scorpion King, or when he got downright medieval on John Cena, pinning him at WrestleMania 28.
At least we assume he'll be a juggernaut, if he inherits Williams's role of Alan Parrish, a boy who gets trapped in a board game for two decades. Does the board game's jungle have a Crossfit among the trees? How else could anyone get swole like Rock, who has dressed up convincingly as the Hulk for Halloween?
Rumors of a Jumanji remake have been swirling for decades, but the addition of a bona-fide A-lister like Johnson seals the deal.
One last note: we hope his dog is in the film, too.