From Punk to Rock: How 'Fast Five' Evolved Dwayne Johnson
How one movie changed a mediocre action career into a cultural powerhouse.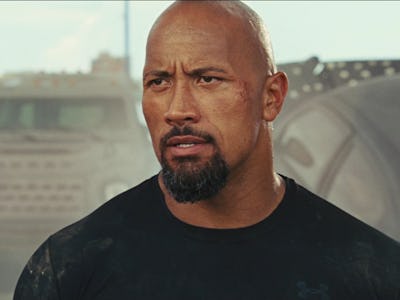 Dwayne Johnson has always been a beefy action star, but Fast Five made him a powerhouse.
Until he played the predatorial Luke Hobbs in the fifth Fast & Furious installment of 2011, Dwayne Johnson didn't carry quite the level of swagger to lip-sync Taylor Swift without sacrificing his Herculean aura. So what was it about Luke Hobbs that elevated Johnson in the pop culture consciousness?
Prior to Fast Five the Fast & Furious movies weren't quite action blockbusters, they were street racing flicks with crime on the side. Audiences came for the cars and import models — the shoot outs were extra. Things changed immediately after 2006's The Fast & the Furious: Tokyo Drift, which was mysteriously a teen drama, with 2009's Fast & Furious. Though it was a critical bomb, it was a financial success and the prologue for the series' new direction.
Then Fast Five happened and nothing was the same. The tonal shift from racing to genuine action pleased audiences and critics alike, and at the center of it was the series' new kid in school: Dwayne Johnson.
In Fast Five Johnson plays Luke Hobbs, a ruthless U.S. DSS agent with the body of a predator and the command of a dictator. He carries a sidearm the size of a cannon and handles it like a gunslinger. "Blood, bullets, wrath of God, that's his style," Paul Walker's Brian describes him to the rest of Toretto's crew. "He's Old Testament."
But in the film's two-hour running time, Johnson had to earn that image. Before Fast Five, Dwayne Johnson's status could be thought as "spotty." He was a Hollywood tough guy with moderate success, but if he didn't have one genuine hit under his belt soon he'd be condemned to DVD supermarket hell. His breakout role as the Scorpion King from The Mummy Returns and The Scorpion King was headline worthy — who knew a cheesy wrestler could earn the record highest paycheck for a first-time actor? — but a [string](http://en.wikipedia.org/wiki/Doom_(film) of duds and family films quickly distanced Johnson away from the living titan he was meant to be.
His comedy work, like Get Smart and The Other Guys were well-received, and really funny, but they came off like spoofs of what he was meant to be. What badass cop forgets to look down?
The synergy between the Fast & Furious' change and Dwayne Johnson's newfound confidence soared both parties to new heights. The most recent installment, Furious 7, was a critical and commercial. It raced past $1 billion worldwide and an unprecedented (for the series) 82% on Rotten Tomatoes.
The change for Johnson upon doing Fast Five was more than cultural, it was also physical. The 6-foot-4 Johnson was always larger than life, but pro wrestling is punishing on the human body. No man is meant to hit steel and canvas with force, and Johnson did it for years straight for the WWF/WWE.
In an interview with Collider, Johnson revealed just how much of a change he actually underwent to take on "the wrath of God" Luke Hobbs.
"This guy is a hunter and he's the best at what he does. He hunts down bad men and brings them in dead or alive. It's what he does … I trained my ass off for this role. Got up every morning at 4'oclock in the morning and jacked iron for about an hour and half to two hours."
Fast Five was more than a perception change for Johnson. He shed his burly wrestler body to become Hercules. Literally, he starred in Hercules.
With several major hits since Fast Five, Johnson has finally fulfilled his destiny as the leading Hollywood hero that inspires the every man to wake up and kick ass. No, really: He hosted an entire reality show built around this premise.
In a few weeks will be the release of San Andreas, starring Johnson as a maverick helicopter pilot amidst a devastating California natural disaster. Not long after that, he'll be starring in the HBO series Ballers, where he has also taken on the reins as producer.
San Andreas is bound to be another solid entry in the oeuvre of one of Hollywood's most recognizable, larger-than-life screen heroes.
Disaster movies are an interesting sect of action films. Unlike your Die Hard or Marvel flick, there are no true antagonists. There are no devils for the hero to look right in the eye, only nature. Nature is an overwhelming presence you can't punch in the face, you can only hope to survive.
Yet San Andreas is poised for Johnson as a man you believe could punch a god damn tidal wave. It's a long way from being a tooth fairy.