Quotes From The Rock's Instagram As Motivational Posters
Because no one makes me think that waking up at 4 a.m. for #RiseAndGrind and #MyCupOfUnleaded is possible like he does.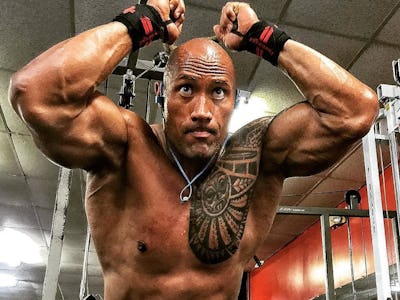 Dwayne "The Rock" Johnson is an inspiring guy.
Having pounded out an impressive college football career, embarked on a meteoric rise to become the WWE's biggest star, and then transitioned to Hollywood superstar with a string of record-breaking blockbusters, The Rock's no stranger to hustle. He's achieved a lot, but he didn't get where he is by sitting on his ass — he put in a lot of damn hard work.
It's no secret that The Rock's Instagram is one of the best. He uses the platform to dole out inspiration, to share some laughs and to encourage us not to hit the snooze button on our phones (or our lives).
He's the undisputed king of hashtags, an endless fountain of wisdom and an all-around kind-hearted, good-spirited fan fave. So in celebration of The Rock's top-notch Instagram, we put just a few of his best quotes (and hashtags) into motivational-poster form.
The Go-To
On Goals (And Cussing)
On Work Ethic
On Standing Up For Yourself
On Hustling
On Pushing Yourself
On Working Hard & Richard Pryor
On Digging Deep
On Karma & Bullies
On Priorities
On Outworking The Competition
Go forth with the boundless wisdom of The Rock and remember: #BeTheHardestWorkersInTheRoom