Washington Post to Host 'Transformers' Summit, Will Include Cool Robots
The day-long gathering will include a robotics competition for high-schoolers in the area.
by Kastalia Medrano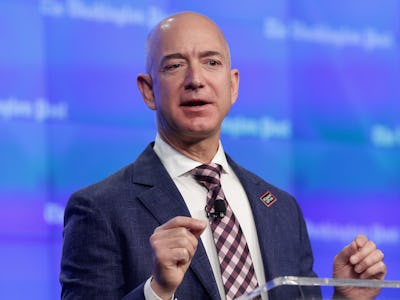 Getty Images
The Washington Post will put on next month a day-long technology event it's calling Transformers, apparently because Jeff Bezos, decided he wasn't busy enough with the Amazon and Blue Origin and the Posts regular goings-on.
The paper released new details today about what will be a D.C. summit on May 18 about today's biggest and boldest innovations in the tech and business spheres, with a whole bunch of speakers including journalist Katie Couric; IBM Watson general manager David Kenny; Reddit co-founder Steve Huffman; Virgin Galactic chief executive George Whitesides; DARPA director Arati Prabhakar; and of course Bezos himself.
The Post reported that the gathering will also include a robotics competition in which the paper's engineering will mentor local high-schoolers, which sounds pretty cool. They'll purportedly be building an information-gathering tool for a "mock-story environment." Bezos, along with chief executive of CyPhy Works Helen Greiner (also a speaker at the event) will pick the winners at the end of the day. You'll be able to livestream the whole thing here.
No word yet on what the winners get or what, if anything, the robots will actually be used for, but maybe they'll get free subscriptions to Amazon Prime Video, at the very least.
"Robots are performing surgery," goes the Post announcement. "Computers are beating humans at our own games. Businesses and governments are collaborating in unprecedented ways, opening up new markets and models. On May 18, some of the most transformative thinkers in the country will discuss breakthroughs in artificial intelligence, commercial space travel, and medicine — providing opportunities for a powerful exchange of ideas, strategies and lessons learned."
The Post originally announced this summit a year ago, saying the usual stuff about innovators coming together to "upend the status quo."