Amazon Prime Same-Day Delivery Now Services 21 Percent of U.S.
The company's expansion to 11 cities adds more than 5 million consumers.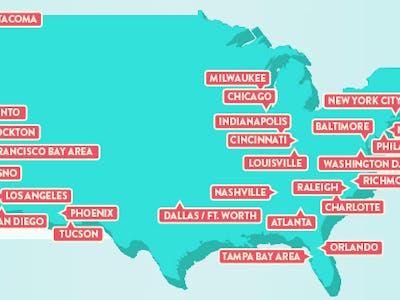 Business Wire
Amazon today announced the expansion of its Prime Same-Day delivery service, rolling out the speedy delivery system to 11 more cities for a total of 27 metropolitan areas around the country.
As the name suggests, the service allows customers to receive any of its one million Same-Day-eligible items in the same day it's ordered – or "before bedtime," as the company says – so long as it's ordered prior to noon. And like standard Amazon Prime Two-Day deliveries, which are available across the entire U.S., Prime Same-Day shipping is free.
Based on data gathered from the Census Bureau on the various populations of the metropolitan areas, Amazon extended its Same-Day delivery to more than five million people, adding to the more than 65 million people Amazon already covers.
Those five million people represent residents in Charlotte, Cincinnati, Fresno, Louisville, Milwaukee, Nashville, Raleigh, Richmond, Sacramento, Stockton, and Tucson who can now order new shoes in the morning and have them ready for a night-time run.
Amazon can't service every single resident in these cities, but taking the rough populations of each, Inverse estimates that Same-Day delivery is available to more than 21 percent of the U.S.
In order to make same-day delivery work, Amazon targets areas that already have a company warehouse in place and use that as a base to partner with local delivery services that are capable of servicing Amazon's Prime members seven days a week.
Looking at the company's map of "fulfillment centers," midwest and west region states are likely to have to wait the longest for Same-Day delivery, meaning residents of St. Louis, Denver, and Salt Lake City shouldn't keep up their hopes that the service will be coming their way any time soon. Likewise, mid-size cities, such as Detroit, Cleveland, Albuquerque and many others still lack the infrastructure Amazon would need to expand there.
Someday, Amazon hopes to use its own system of drones to drop off packages directly to consumers' doorsteps, but due to myriad of FAA regulations and concerns of safety and privacy, we're still a ways off from seeing that.
To check if your home or business qualifies for Same-Day, visit Amazon and input your zipcode.