Is Amazon's Monthly Prime Subscription Worth It for Movies and TV?
As Amazon's streaming services offers a monthly subscription plan to combat Netflix, it's time to take a look at which reigns supreme.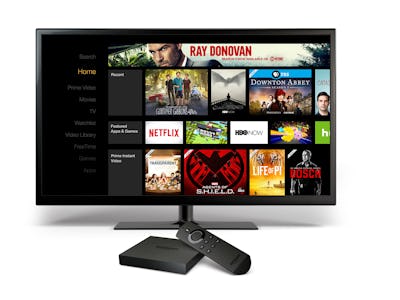 Amazon
The battle of the streaming platform giants entered a new phase on Monday: Amazon introduced two new monthly options to its Prime membership, putting the e-commerce giant in direct competition with the streaming king, Netflix. With other services like Hulu, HBO Go, and even Crackle trying to claim users, it's time to look at all the factors. Has Amazon positioned itself as a rightful challenger to take over the streaming bragging rights? More importantly, is the new service worth your money?
Price
The main advantage of Amazon's new plan is that it gives people options to dip their toes into everything the store has to offer in streaming entertainment. Before, the only thing hampering growth on Prime Video was that content was only previously available to users who paid the $99 annual subscription to Amazon's complete Prime package — but the new $8.99 per-month streaming services and $10.99 per-month Amazon Prime package (including free two-day shipping on orders), will give people a little more than Netflix has to offer. The monthly fee is still $8 more annually than a full subscription to Prime. Netflix's standard 2 HD screens at $7.99 per-month plan is still the cheapest, but both blow the $14.99 per month for HBO Go and blow the $11.99 no-commercials plan on Hulu out of the water.
Winner: Netflix is the cheapest bang for your buck.
Platform
Amazon has a reported 60 million paid subscribers, while Netflix tallied over 75 million subs and counting in January 2016. That's a lot of people with a lot of options, but the means to actually see the streaming content is somewhat limited. Prime Video works with a good number of compatible devices including its own Fire TV, Roku, and most mobile Android and iOS devices, but not all of them: Amazon says Prime Video will be available soon on Apple TV, but it continues to not officially support Google's Chromecast API. Just search from "Chromecast" on Amazon and results for their own Fire TV pop up. It's a nasty little search trick on Amazon's part, but it's telling. The advantage might be with Netflix and other streaming services that also work with Chromecast and Apple TV.
Winner: Netflix, because it's so ubiquitous.
Original Series
If you're looking for straight-up quality, then HBO Go is your destination, but even that's cheating a little bit. Hulu, through its deal with several networks, aggregates those network's shows, and throws in a smattering of its own originals. If it's prestigious originals you want, Netflix seemed like a tough one to beat after becoming the first streaming service in history to pick up nominations and wins, thanks to the success of standouts House Of Cards and Orange Is The New Black.
But Amazon originals have since made their own awards push. At last year's 72nd annual Golden Globe Awards, Amazon took home two trophies for Transparent as the year's Best Comedy Series and Jeffrey Tambor as Best Actor in a Comedy Series. This year it cleaned up the same two categories with its show Mozart in the Jungle. Amazon has consistently become the place to go for bold, weird, and challenging original shows every time, and just ekes by Netflix for now. Knowing how many original shows Netflix has on its docket means this could change at any second.
Winner: Go to Amazon for your intelligent and idiosyncratic programming.
Movie Selection
iTunes remains probably the best a la carte option for renting movies. But if we're talking about a flat rate for as much content as you want, it's the big three of Netflix, Amazon, and Hulu we have to scrutinize. No one service can just provide all of the content for everyone, but between the three it's damn close.
Hulu is going for the film school snobs by having the exclusive rights to stream Criterion Collection movies, but their variety after that is very, very hit or miss. Amazon trumps it simply by courting those types of auteurs for new original movies, including Woody Allen and Spike Lee (they also bought Kenneth Lonergan's Sundance hit Manchester By the Sea, among others). Netflix doesn't advertise specific numbers, but its selection is in the thousands, while Amazon inflates its content numbers of "more than 17,000 movies and television shows" after counting individual episodes. It's too difficult to tell any more specifics given the constantly fluctuating lineup between Netflix versus Amazon licensing specific movies, and it's basically all up to the viewer's taste.
Winner: A contentious draw between Amazon and Netflix
Exclusive Streaming Rights
Another huge library of prestigious streaming content is on HBOGo, but Amazon has the back catologues of many HBO shows like The Sopranos and Deadwood, so they aren't exclusive. This category is a little bit like the wild west considering each service is snatching up individual shows and movies left and right, with exclusive rights vanishing as soon as one service can pay as much or more. Most notably, Netflix let an exclusive deal with Epix expire in late 2015, which included big movies like The Hunger Games and World War Z, which were then snatched up by Hulu shortly thereafter. Amazon didn't bother bidding, because all the Epix movies would eventually find their way to Prime because of their own deal with Epix. These wars have made Netflix shift gears and focus on original programming, while Amazon continues to try and at least make up for its other shortcomings with great movie selections.
Winner: Amazon, at least until some other blockbuster exclusive streaming deal is made.
So in the end it's a toss-up. Netflix is by far the more high profile streaming service, but Amazon is making moves to supplant the reigning champion. Its monthly service is definitely worth it, and the best step for people at least curious about adding what prime has to offer to their streaming lineup. But each have their own strengths, and if you can manage to pay for both then the quality of the entertainment you enjoy will be second to none. Hey, look at it this way: either one beats cable.