5 Big Problems for the U.N.'s "Special Session on the World Drug Problem"
Shutting down the darknet, opioid drug abuse, and terrorism-related money laundering are all on the agenda.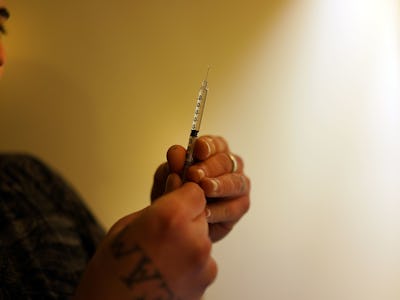 Spencer Platt/Getty
This week, the United Nations General Assembly is holding a special session to focus on a single global concern: Drugs. Bringing together leaders and organizations from more than 150 nations, UNGASS 2016, held in New York Tuesday through Thursday, will check in on the progress countries have made on a set of goals set out by the U.N. in 2009.
The global drug situation has gotten a lot more complicated since then: The Silk Road marketplace has come and gone — the darknet is still a thriving marketplace for drugs — and money laundering is increasingly tied up with terrorist groups. And there's the matter of new synthetic drugs popping up every day. Here's what the U.N. will be doubling down on this week.
1) Increasing Access to Treatment
Only 1 in 6 people with drug problems has access to treatment. Even in nations where treatment is available — and at least a third of the countries involved in the summit haven't even set aside money for drug use prevention and treatment — getting help for drug use is rarely covered by the national health care system and is heavily stigmatized to boot. Part of the problem is that many nations still view drug use as a criminal issue rather than a matter of public health.
2) Preventing Darknet Drug Sales
The internet has emerged as a major market for drugs — especially ecstasy, hallucinogens, cocaine, ketamine, and other synthetic drugs (heroin and methamphetamine dealers tend to use more traditional routes). Shutting down the Silk Road, one of the darknet's biggest trading platforms, was a major step, but the online market continues to proliferate and the legal systems of most drug-stricken nations aren't equipped to deal with internet crime.
3) Balancing Access to and Restriction of Opioid Drugs
The illegal use of legal drugs — especially opioid painkillers like codeine, morphine, and fentanyl — has been particularly difficult to manage. While curbing access to the drugs is a major goal of developed countries like the United States, in less developed nations, the need for medical-grade painkillers is actually growing as the number of cancer and AIDS cases continues to rise.
4) Dealing With Money Laundering and Terrorism
Despite the game plan laid out in 2009, attempts to curb the movement of illegal drugs across international borders have not been especially productive. In addition to addressing the need for stronger border control, the U.N. is cracking down on money laundering of the proceeds from drug sales, especially in nations where the profits are funneled into terrorist networks.
5) Preventing the Spread of HIV/AIDS
At least 158 countries have reported the illegal — and unsafe — use of injectable drugs; in many of these nations, it's drug use that's driving the HIV epidemic. It doesn't help that stimulant drugs, like amphetamines, cocaine, and other new psychoactive substances, are linked to risky sexual behavior. Prioritizing needle exchange programs, opioid substitution therapy, and treatment for HIV is key, but convincing nations to treat drug abuse and its effects like a public health issue instead of a purely criminal activity hasn't been easy.