Kofi Annan Says It's Time to Legalize Drugs
The former U.N. Secretary General is sick of criminalization.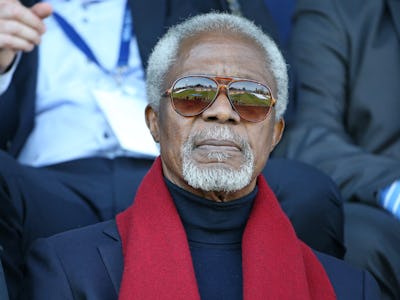 Philipp SchmidlPhilipp Schmidli/Getty
You know drug policy needs an overhaul when Kofi Annan gets involved.
The former U.N. Secretary General just penned an open letter demanding that it's time to legalize all drugs, everywhere. And no, it's not because he's a recent convert to medical marijuana — he's simply sick of seeing drug laws punish more people than it helps.
"I believe that drugs have destroyed many lives, but wrong government policies have destroyed many more," he writes in Spiegel.
As he makes clear in his cry for action, Annan is calling out policymakers that will convene at the U.N. General Assembly's session on drugs on April 19-21.
In most nations, the approach to drug use and trafficking involves criminalizing everyone involved, but this strategy has only caused an immense black market to proliferate. Global prohibition efforts, as he points out, cost $100 billion a year, but because 300 million people use drugs anyway, the global illicit market has a turnover of $330 billion.
On top of that, widespread criminalization policies further damage the lives of individuals already struggling with drug addiction. These people aren't criminals, he argues — they're "patients in need of treatment." Regulating rather than criminalizing drugs makes it possible for governments to better limit access (through, for example, prescriptions) and educate the public about their dangers, which has been shown to be a much more effective strategy for reducing widespread harm than complete prohibition.
Annan points to Germany — which considers neither drug addiction nor the possession of small amounts of drugs crimes, and even allows for the existence of legal drug-injection rooms for addicts — as the ideals for changing global drug policies, and called on the German government in the Germany-published Spiegel to advocate for change abroad.