'Fear the Walking Dead' Channels the Bubonic Plague
"We All Fall Down" sees a family crumble to something worse than ashes.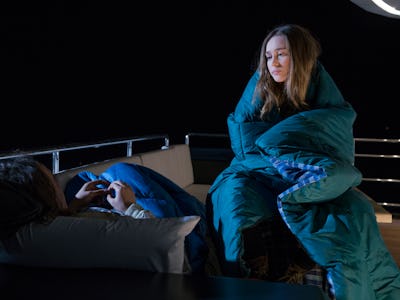 AMC
Six years and two television shows later, The Walking Dead has, at long last, referenced the only time in human history we came close to a real apocalyptic outbreak: the Bubonic Plague. "We All Fall Down", the follow-up to the Season 2 premiere of Fear the Walking Dead is a solid, but unremarkable entry; the crew of the Abigail take a brief break to meet an eccentric family whose patriarch is hiding a fate for his family.
On its way to San Diego, the Abigail sees two flashes from a lighthouse — a call for help? — motivating Travis (Cliff Curtis) and Madison (Kim Dickens) to investigate. The house belongs to a rather normal, if isolated (and we later learn, survivalist) family, headed by an "amateur everything" named George (David Warshofsky), who has two rugrats and an older son, Seth (Jake Austin Walker). After the hell that was Fear's Season 1 finale and heavy Season 2 premiere, Travis and the others are exhausted and need a little shore leave.
The Black Plague is brought up, though not just by name, when one of the little ones are singing "Ring Around the Rosie." Like most kids her age living in the modern world, she stops to wonder what the hellish pocketful of posies is supposed to mean. Alicia (Alycia Debnam-Carey) explains the historic reason — it was the best medicine medieval Europe had — to which the young girl ominously replies, they have medicine now.
That's the part that's going to suck. Recovering druggie Nick (Frank Dillane), possibly looking for a fix, finds colorful but nasty pills hidden in George's office. Nick suspects the worst, and his instincts were correct. Thinking the "medicine" will help, the young girl takes a pill and devastatingly turns into a walker, biting her mother. George urges Travis to get out with his youngest son with them until Seth — bizarrely missing this whole time — threatens to take him back.
"We All Fall Down" inverts Fear the Walking Dead's dominant theme about family togetherness. While Travis et al. are intent to stay together and keep moving, George wants to remain on familiar ground. It's stressed by George's fascination with Travis's Maori heritage, who culturally bring their dead back to their homeland (or so Travis explains just to stress the show's themes).
It's a tempting idea for Fear the Walking Dead. Most zombie shows, both Walking Dead and Fear the Walking Dead have been about being on the move, that no settlement is built to last. The prison and Woodbury are monuments of that. But is that really any better? Moving takes up different kinds of resources and there's all sorts of danger that lurks outside — just ask Rick and his crew, who are hostages of a psycho with a baseball bat.
Of course Fear the Walking Dead goes on the move. Even if they could stay, they've left a perfectly happy family who would have chosen their own fate in total ruin. These people will destroy everything they pass. What else will they leave behind?