'Fear the Walking Dead' Season 2 Premiere: Zombies Can Swim
'Fear the Walking Dead' answers an age-old question.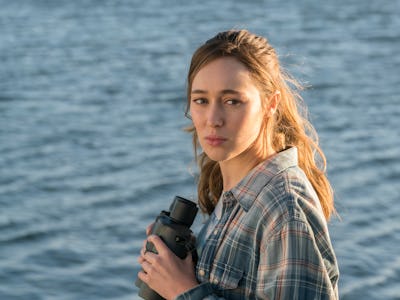 AMC
In almost every story involving zombies, there's at least one character who thinks about boats. It'll be safer out on the sea, they think. For whatever reason.
If there was any concern Fear the Walking Dead would be a pointless experiment, the show alleviated such doubts in "Monster," the first episode of season 2. Though the show's characters remain blank and uninteresting, the prequel/spin-off to AMC's colossal hit zombie drama The Walking Dead at least proposes it can be something totally different, if only by virtue of its physical setting: The ocean.
After Los Angeles burned to the ground, all the surviving Season 1 characters escape on the luxury yacht owned by the mysterious Victor Strand (Colman Domingo). Strand immediately re-establishes himself as an antagonistic force by refusing to help a dozen survivors stuck on a flimsy lifeboat. And that's when Fear the Walking Dead presents new opportunities that the zombie genre rarely ever explores.
You can already guess this season's conflicts: Low fuel. Low food. Low supplies. Disease. Storms. Shipwreck. Getting lost. In the apocalypse these problems are rampant on land but they've never been explored on the Pacific Ocean. On ground, these issues aren't much of a huge deal every time. On sea, they're all matters of life and death. That is made clear with the initial lifeboat survivors, which is emphasized more when Alicia (Alycia Debnam Carey) befriends a (hot? probably hot) guy, another survivor over the radio who later begs for help. "Monster" wastes no time with Season 2 introducing new twists to old problems: Are these people who made it out to sea trustworthy? Is it worth burning fuel to get to them? What kind of risks come with helping people?
Can zombies swim? Believe it or not, Fear the Walking Dead adds to zombie canon by answering, without scientific evidence, yes, zombies can swim. And it nearly kills Chris (Lorenzo James Henrie) in the first "What the hell are you doing?" moment for the season, when a frustrated Chris — still mad that his dad Travis (Cliff Curtis) mercy killed his mother — swims out to sea and gets caught in a troublesome predicament.
Though still plagued with a lack of compelling characters, Fear the Walking Dead Season 2 is off to a solid start that hopefully won't make us too seasick.