Obama Might Not Get 'Game of Thrones' Screeners, After All
Thanks to a clever journalist.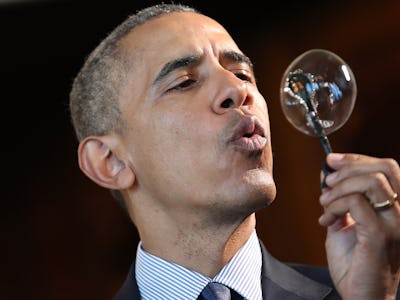 Last week, news broke that the only person who would see Game of Thrones before its April 24 premiere would be Barack Obama, who requested screeners. But that might not happen anymore, now that a clever journalist — Refinery29's Vanessa Golembewski — filed a Freedom of Information Act request for them. She outlines her case in a post:
I know it's a stretch. Firstly, I'm not entirely sure where the Game of Thrones screeners fall in the grey area that is personal property of a government figure. Secondly, there's a bunch of red tape around the kinds of things you can request in a FOIA. Okay, fine. There are just nine exemptions — and all of them seem like really fair calls. For example, it's off limits if the information in question would threaten our national security. I felt confident that even with these rules, TV episodes were still fair game.
Obama only has a few days to respond, and given that he's in the late stages of his presidency, I don't think anyone would be surprised if he makes this opportunity count. Either Obama's gonna have to wait, or Golembewski is going to the White House. No matter what happens, this was an A+ troll.