How Did President Obama Get a 'Game of Thrones' Sneak-Peek?
President Obama has pulled off the impossible: screeners of 'Game of Thrones' season 6 before its April 24 premiere.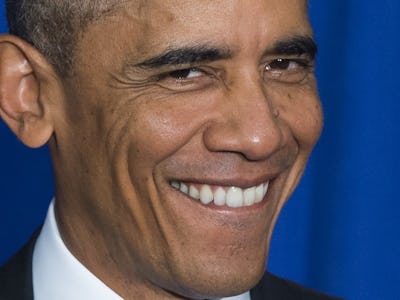 huffpost.com
A fringe benefit of holding the world's most stressful job: Early Game of Thrones screeners.
According to CNN, the creators of the HBO hit gave President Obama advanced access to the show's sixth season. That's an honor no one else is getting this year, not even the people charged with reviewing it.
POTUS has long been an outspoken fan of HBO's programming. In 2009, CBS reported that the President would sometimes rearrange his schedule so that he wouldn't miss Adrian Grenier in Entourage. In 2012, he told Bill Simmons that The Wire was, in his opinion, "one of the best shows of all time." (Which … duh.) Just last year, he revealed that his favorite show on television was The Knick on Cinemax (a premium outlet owned by HBO's parent company).
President Obama has never been shy about his Game of Thrones love. In November, Vanity Fair revealed Peter Dinklage's Tyrion Lannister and the President's favorite character on Game of Thrones. Though the President did confide:
"The problem with Game of Thrones, though, is that I don't remember the names of any of the characters. So when I watch it, I know exactly what's going on. But if you read a review of the show afterwards and they're mentioning such and such, the only one I remember is Jon Snow, because I can pronounce Jon Snow."
With Jon Snow's fate hanging in the balance, only the President knows for certain if Game of Thrones is officially lacking a single character with a normal name, but we'll find out at the end of the month. In the meantime we'll just have to avoid the President in case he wants to start trolling America.