In Wake of Massive Japan Earthquake, Leveled Buildings and Crinkled Roads
This is the second earthquake to rock the country this week.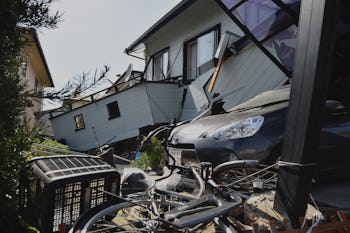 Masterpress/Getty Images
The 7.1-magnitude earthquake that shook Kyushu, the southwestern-most island of Japan's main islands around 1:25 a.m. Saturday local time (around 1 p.m. Eastern Friday) comes just after a 6.2-magnitude earthquake that hit near Mashiki, Kumamoto late Thursday. Some 800 people were injured and nine dead were dead as of 6:00 p.m. Eastern Friday. The epicenter of the 7.1 quake is just a sixth of a mile north of Kumamoto-shi, a city of 731,000.
A series of tremors followed the quake, and the Japan Meteorological Agency immediately issued a tsunami advisory for coastal regions of Japan on the Ariake Sea and Yatsushiro Sea.
"No question, this is a large and very important earthquake," Doug Given, a geophysicist with the USGS, told CNN. "And it will do a lot of damage."
Geophysicist Victor Sardina informed CNN that this earthquake was 30 times more powerful than the seismic event that took nine lives on Thursday — 44,000 taking salvage at community shelters until Friday. It is still unclear if there are any injured or killed or the extent of the damage to buildings and infrastructure, but experts say it could be devastating since it struck in a densely populated area.
Photos and posts on Twitter reveal leveled houses and buildings, and some jarring cracks on roads and freeways.
The USGS reports that this is most likely the end of larger earthquakes, expecting only smaller aftershocks. However the agency cautions that with the unpredictable nature of earthquakes, we should always be ready if the Earth decides to bring another big earthquake.