'Billions' Season 2 Will Highlight Why Damian Lewis's Bobby Axelrod is TV's Greatest Anti-Hero 
Examining how Lewis's unlikely portrayal of a Jersey-born self-made billionaire on the Showtime show worked so well.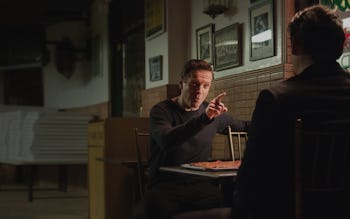 Showtime Network
It's not a good thing for people trying to curb their obsessive TV-watching habits to become more selective with the shows they choose to invest their time in. Because usually, if you stick with a show, it gets better. At least, that has been particularly true with some recent TV shows: The People v. O.J. Simpson and Showtime's Billions. What initially seemed like a comical parody of testosterone-y white-colla r drama became a clever and often gripping bit of testosterone-y white-collar drama (add on the incomparable Maggie Siff as Paul Giamatti's better and more level-headed half, Wendy Rhoades).
Others found the season's upswing to be more drastic than I did — I found it to be a pretty steady build — but anyway you slice it, it seems difficult to believe that the show's finale could have left viewers anything less than dying for the show's second season, which won't come sooner than late 2017. If Season 1 seemed like the heat of war, Chuck and Axe's final confrontation in the season finale makes it seem like a mere preamble to the carnage.
You may love the increasing ruthlessness of Paul Giamatti's emotionally damaged Chuck Rhoades over the course of the series, but somehow it ended up being Damian Lewis's increasingly sympathetic hedge fund mogul Bobby Axelrod who gave this show its flair. It's definitely not an unfamiliar character type, but it's unexpected just how hard the show ends up working to make you like Axe, and see his perspective — even when it comes to profiting off of the death of his former co-workers in 9/11. The show does such a good job with creating a well-rounded Axe that it risks supporting the laissez-faire finance mercenaries.
Lewis is the rare British actor who can somehow make the all-American tough guy thing work. I won't say he's better than McNulty, but in many ways, Lewis's affect is more convincing, making Axe seem like the precocious, pseudo-sociopath he is. He has to distinguish himself somehow from how one might play the character just from reading the one-liners. His attenuated, precise motions and speech makes him seem like just enough of a freak — enough to have distinguished himself from the pack of aspiring hotshot traders and become royalty in his industry.
With his ties to Wendy eliminated — and Giamatti, now single, busy rubbing the salt in Axe's wounds — Season 2 will inevitably find Axe remaking himself, both professionally and personally. He has nowhere else to go, and he hasn't shaken off his bad PR for the 9/11 stunt, or his other messy conflicts. As for the conflict with the U.S. Attorney's office, the "playing dirty" we've only seen glimpses of from Axe this season (mostly, covert surveillance operations) will no doubt ramp up. They'll have to, since he now knows Chuck is willing to play the same game. Chuck's baiting will push Axe to stay even more on the offensive, expanding his operations beyond just tailing Chuck to S&M clubs.
Billions Season 1 pulled us into caring about these characters, and understanding their self-contradictions and warped senses of morality, but like the Empire Strikes Back to its New Hope, Season 2 will show us how far they're willing to go to prevail.