Huawei Bets on 360 Audio to Sell Its VR Headset
The technology is here, movie and game creators just aren't using it yet.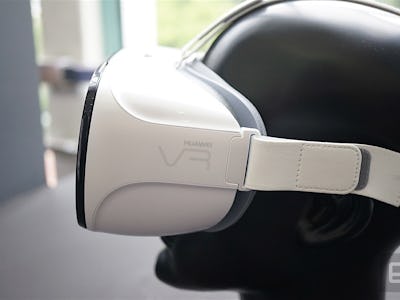 Digitaltrends.com 
This year, virtual reality is hitting the market and headset makers including Facebook's Oculus, HTC and Steam's Vive, and Samsung's smartphone-powered Gear VR are all looking for a niche into this new consumer base. Now, Huawei is betting its corner of the market is based in sound quality.
Huawei earlier this month announced some new flagship phones, but arguably the more interesting piece of hardware is Huawei VR, which is a mid-range virtual reality headset competing directly with Samsung's Gear VR. Both devices rely on a compartment that houses a user's smartphone, which serves as the main screen and power for the headset, rather than the high-powered and high-priced immersive headsets from Oculus and HTC's Vive.
Based on the specs, Samsung's headset will still project crisper images with a higher resolution screen, but Huawei is claiming it has something its competitors don't have — 360 sound.
The experience is supposed to immerse listeners such that the sound is all around them. Where as most music and audio recordings are coming at you from two channels, 360 sound allows you to better place the sound in space such that users not only hear the horn of a car passing by, but also that car's place in space as if it were actually driving by and subtly diminishing as it gets farther away.
Also known as binaural sound, this technology has been around for some time now and has been used by musicians such as Thom Yorke of Radiohead as well as Lou Reed to record his 1978 record Street Hassle.
Huawei claims its headset is the first to offer a 360 sound experience on the go, as long as there's compatible software and headphones. But, thats a confusing statement given that 360 sound is referring to a form of audio recording not just a specific listening experience.
The microphones used are designed to mimic human ears and the way the sound bounces off of those weird grooves and cavities and usually requires two sets of microphones on a mannequin head to emulate the real-life audio experience.
Any stereo headphones are compatible with binaural audio. Technically, the iPhone earbuds owned by millions of people are stereo, although a VR experience would certainly be better served by noise-canceling over-the-ear headphones. Huawei VR doesn't come with built-in headphones like Oculus does, so consumers will have to rely on their own hardware.
The company also says it works "given compatible software," but it's more difficult to record in 360 audio and there's simply not many people doing it yet. Technically, your laptop and smartphone are 360 audio enabled devices that you take "on the go," but there's little binaural audio content to consume.
Samsung's online store Milk VR offers 360 content, some of which utilizes binaural audio already and can be consumed on the Gear VR headset. Huawei is touting the availability of more than 4,000 free movies, but if those movies weren't recorded in 360 audio (and surely not all of them were) they won't have the same immersive experience as video content created with VR in mind.
Without a launch date or price point yet, Huawei is still in the infancy of this product, so perhaps more details will emerge about how the company plans to promote this audio experience, but for now there's nothing stopping consumers with some earbuds from getting a taste of binaural audio right now.
Relax, pop in some headphones, and enjoy a soothing haircut in a barber shop to prove it.