Even With Arrival of HTC Vive and Oculus Rift, VR Still Seems a Lifetime Away
And PlayStation VR is still months from shipping.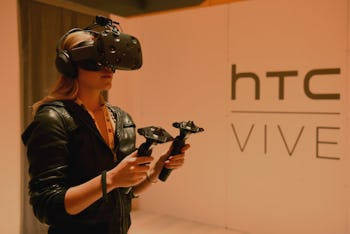 Getty Images
The HTC Vive started shipping today, but some unlucky customers won't be getting their hands on it for a long time. Coupled with delays for the Oculus Rift, and the PlayStation VR still far in the distance, the much-hyped debut of proper virtual reality seems as far away as ever.
Canceled orders, missing packages, and deliveries that mysteriously disappear are just some of the problems plaguing Vive players. HTC assured customers that "a limited number of individuals" were hit by "processing issues," which led to unintended order cancellations for the $799 headset. The issue stems from problems with the order system. Even though HTC said that it was working to resolve the issues, there are still numerous users complaining that they've been ignored.
HTC isn't the only virtual world maker that's been having trouble. Oculus had to delay the much-hyped $599 Rift headset for some buyers after the company slipped on its original shipping dates. CEO Brendan Iribe took to Twitter Saturday to quell buyer fears by making a big offer: free shipping to everyone, even international customers.
Oculus founder Palmer Luckey jumped on Reddit to admit that he can't explain what's going on right now. "I won't give in-depth updates on any situation without knowing it is solid, true, and finalized," he said.
On Sony's side, the PlayStation VR won't be on shelves for another six months. If it can pull it off, Sony's offering has the potential to turn the whole industry on its head. The PlayStation VR will cost just $399, requiring only a $349 PlayStation 4 to power it. The Vive and Rift, on the other hand, both depend on beefy PCs to power them. Unfortunately, Sony's targeted a ship date of October, even further away than Oculus and HTC's offerings.
If they ever arrive, Sony and HTC's systems will offer experiences that should do well to fulfill the dream of VR, where a player can explore a virtual world with their hands. The Move, a Wii-like controller that debuted on the PlayStation 3 back in 2010, will work with the PlayStation VR from day one. Sony has demonstrated some interesting games that will be compatible with the Move, like "Job Simulator," where the player has to complete basic office tasks with a pair of virtual hands.
On HTC's side, the Vive comes with a pair of motion controllers built on the ideas of the Steam Controller. Instead of a pair of wands with some simple buttons, the Vive features an advanced trackpad that the player has to slide their thumb across to use.
The Rift ships with an Xbox One controller for interacting with the virtual world, not quite the hand gesture-based virtual world some might have been hoping for. That's coming in the second half of 2016, when Oculus launches the Touch controllers that can map the player's hands to hands in the virtual world.
It's been a long journey towards proper virtual reality, when back in 2012 Oculus put up a Kickstarter for a headset that promised "a truly immersive gaming experience." After the lengthy wait, a few weeks may not seem that important, but it's still infuriating for those who paid so much to be among the first.