HBO's Anita Hill Film 'Confirmation' Builds on 'The People v. O.J. Simpson'
Like the FX show, 'Confirmation' offers a prismatic take on a significant moment in 1990s political "theater."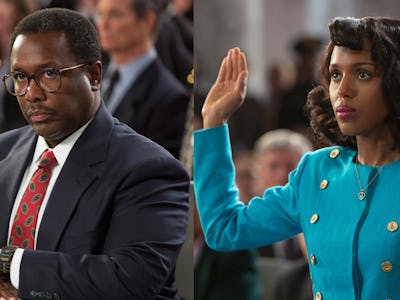 HBO Network
The O.J. Simpson trial was one of the major entertainment (however accidental) events of its decade. But Anita Hill's testimony about judge Clarence Thomas's sexual harassment to the Senate Judiciary Committee — more short-lived, but similarly explosive on a national scale — was not too far behind. Also, the implications in society were longer lasting, leading to a surge in harassment cases and female congressional candidates. Similar methodologies and release dates of FX's The People v. O.J. Simpson and HBO's two-hour rendering of the Thomas's vetting for the Supreme Court, Confirmation, almost force comparisons between the two. Both the show and film are very effective, if Confirmation's formal approach is slightly more facile. They work best as "message" pieces: giving a voice to micro-narratives and morals that were underplayed in the contemporaneous media coverage of these events.
It is not just Hill's narrative which is realized sensitively in Confirmation — but also Thomas's. Though by no means advocating for him, Wendell Pierce's portrayal lends him a humanity, and most importantly, expounds upon the racial politics which made his statements to the committee so charged, and inevitably, tipped the scales even further in his favor for confirmation. Even Hill's lawyer Charles Ogletree, played by Jeffrey Wright, realizes the "truth" inherent in his testimony, and its power. By diverting the case's focus from sexual harassment to race — just as Johnnie Cochran did from murder and abuse to race — Thomas makes the conversation between himself and the committee much more one way. As Ogletree says to Hill: "You think any of these white boys are gonna dare to challenge him now?"
Yet we believe the sincerity of Thomas's conviction, and know that he is correct about the double standards in D.C., and society at large: "I'm not Kennedy. I'm a black man in america; this is a very different thing for me." Confirmation finds a way to make Thomas seem real without warming to him; like Cuba Gooding, Jr. as O.J., we are hardly let in on his private thoughts, and the movie sticks mostly to Hill's storyline.
Thomas as Hill is a perfect balance of acting and re-enactment, the way these projects inevitably must be. In every scene, she embodies Hill's poise as well as on-the-surface humanity and honesty. Not that they are isomorphic personalities here, but the blend recalls Sarah Paulson's adept performance as Marcia Clark in The People v. O.J. For some, no doubt, watching Washingtons testimony will prove to be a viscerally moving experience; Washington has that ability even more than Paulson.
Perhaps the most structurally interesting element of the film is the fact that we spend so much time with then-Committee Chairman Joe Biden (hilariously, Greg Kinnear), and a large cadre of variously crusty middle-aged-to-elderly white senators (see especially The Visit's Peter McRobbie as appalling, Shakespeare-quoting Republican senator Alan Simpson), behind closed doors. We see how they all rank on the scale of misguided to deeply prejudiced.
Director Rick Famuyiwa exploits, at every turn, the irony that this all-male, all-white committee is the one passing judgment on this issue, and amid an absurd amount of political pressure. Biden, the great compromiser, comes off looking like the one who botched everything, and in his effort to make concessions — and his lack of understanding of either the worldview of the defendant or his accuser — it's hard to come out of this film thinking that he didn't.
Confirmation is nothing revolutionary. In fact, it may be exactly what the preview suggests. It is stereotypically paced, cornily scored, and sometimes seems — with respect to some of the side characters — unnecessarily stunt-casted. But it is not these elements that truly count here; they do not obscure the tacit, important morals in the film, or suffocate the excellent acting, which leads the way. As much as The People v. O.J. Simpson — and in some ways, more so — Confirmation remembers a familiar story with meaningful annotations. It freshly interrogates significant events in a decade which is just starting to feel distant, just as those critically considering a vote for Hillary (by proxy, the Clinton Legacy, some would argue) are today.