Canada's Doctor-Assisted Suicide Bill Would Not Apply to Americans
It's open to Canadian citizens and residents only.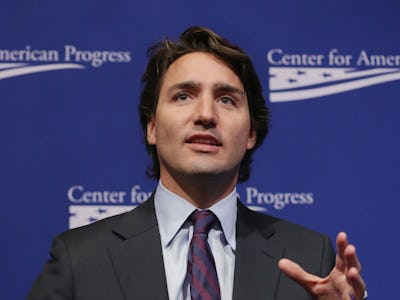 Chip Somodevilla/Getty
Canadian Prime Minister Justin Trudeau introduced on Thursday legislation to legalize physician-assisted suicide, which would make it legal for the terminally ill to commit suicide, with the help of doctors, using lethal medication.
"Today in the House, were introducing legislation that gives dying patients the choice of a medically assisted death," Trudeau posted on his Twitter account. "This is a difficult & deeply personal issue, and our government has carefully studied how best to support those in great suffering."
But don't expect any terminally ill Americans to travel north to die, like they might when seeking prescription drugs they can't get in America.
If Trudeau's bill is approved by Parliament, patients covered by the country's national health care system — that is, Canadian citizens and residents only — would be eligible for physician-assisted suicide. Trudeau's proposed law is carefully designed to avoid "suicide tourists" seeking a one-way trip.
In the United States, assisted suicide is only legal in a handful of states: Oregon, Vermont, Washington, California, and New Hampshire. In Europe, it's legal, in some form, only in Belgium, Netherlands, Switzerland, and Germany.
While the right to die after suffering from a serious or terminal medical condition isn't exactly ubiquitous, the desire to is more widespread than you'd think. One 2014 study in the Journal of Medical Ethics showed that more than 600 people from 31 different countries traveled to Switzerland between 2008 and 2012 to take advantage of its assisted suicide policy, which isn't as restrictive to nationals as Trudeau's proposal. The Swiss rules, in addition, don't apply only to people with terminal illness; the study noted that many of the "suicide tourists" were people with neurological and rheumatic diseases whose conditions were considered non-terminal.
The full details of the bill haven't been revealed yet, but here's what we know about Trudeau's proposal so far: Assisted deaths will be restricted to adults, only after they develop a serious or terminal medical condition, and only if two independent physicians deem it an appropriate step to take. Doctors won't be legally required to participate if they object to the practice, but they will have to refer patients to other doctors if they do.
Patients will also have to sit through a 15-day "reflection period" after a dark diagnosis before making their decision. People with psychological issues will also be excluded.
The bill, which has been brought to the Canadian House of Commons, stems from the Canadian Supreme Court's ruling last year that the long-standing ban on physician-assisted suicide was a violation of the Canadian Charter of Rights and Freedoms. Despite the heated controversy surrounding the assisted suicide debate, it's likely that Trudeau's bill, together with its safeguards against suicide tourism, will pass, given the majority his Liberal Party holds in the House.