What 'Deadpool 2' Could Be About, From Cable to Spider-Man
Sharpen the katanas. A 'Deadpool' sequel is on the way.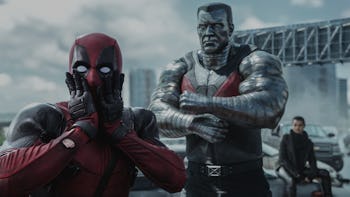 20th Century Fox
The foul-mouthed assassin of Marvel took over February this year in 20th Century Fox's R-rated Deadpool, directed by Tim Miller and starring Ryan Reynolds. Because of its success, Fox co-chair Stacey Snider announced at CinemaCon a sequel is underway, retaining the first film's director, charismatic star, and screenwriters (Rhett Reese and Paul Wernick).
This really isn't a surprising development, given the film's colossal (ha, get it?) performance at the box office which raked in $758 million at a modest $58 million budget. Especially since it's an R-rated movie, which studios who produce blockbuster superhero movies tend resist.
Like Babe Ruth calling his shot from home plate, the end credits scene of Deadpool boasted bringing in Cable, Deadpool's sometimes arch-rival and sometimes partner in Marvel Comics. No one has been enlisted to play Cable yet, but the internet thinks Keira Knightley would be hella sweet.
Since Cable will be in the film, there's no shortage of storylines the film could adopt. Fabian Nicieza wrote 50 issues of Cable & Deadpool, which had the two get gross but also kick a lot of ass. There are storylines like "If Looks Could Kill" where Cable and Deadpool get their DNA mixed up (at one point Cable literally throws up Deadpool). "Enema of the State" where Deadpool is brainwashed to kill Cable, who tracks him down through various dimensions, including one where Cable is one of the horseman of the Apocalypse, and in the House of M universe where Cable is an itty bitty baby. And while it doesn't really matter due to boring licensing agreements, Cable and Deadpool's partnership ran during Marvel's Civil War, but don't expect Deadpool 2 to cross over with the film version.
But maybe Deadpool isn't that far away from the MCU. At a recent press event for the Blu-ray release of Deadpool, Tim Miller and producer Simon Kinberg expressed hope that Deadpool could crossover with Spider-Man, which would bring another comic book partnership to the big screen. "With all of the deals that have recently started happening, we asked if they could get visitation rights to Sony's friendly neighborhood Spider-Man," Kinberg said laughing, via ComicBook. "I would love to see it. Both of us are close with [Marvel producer] Kevin [Feige], we respect and love Kevin. If it were even remotely possible, we will find a way cause wed would love to see it."
After five films at Sony, Spider-Man will make his Marvel Cinematic Universe debut in Captain America: Civil War and his own film, Spider-Man: Homecoming coming July 2017. A release date for the Deadpool sequel was not disclosed.