'Game of Thrones's Kit Harington Is Sick Of Being Jon Snow
Kit Harington has made valiant efforts to leave 'Game of Thrones' behind. We revisit them before he returns in Season 6.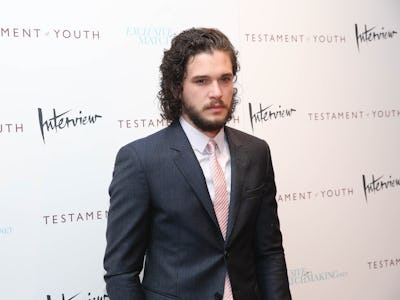 Getty 
It is a truth universally acknowledged that any actor who gets his start playing a particularly iconic character will carry it with him forever, like an invisible conjoined twin. Daniel Radcliffe can play all the farting corpses he wants, but there will always be a Harry Potter shaped aura surrounding him. Elijah Wood can play witch-hunting priests opposite Vin Diesel until he dies, but to many, he will always be Frodo.
Kit Harington was fresh out of drama school and wasn't even sure if he'd be able to grow Jon Snow's now-famous beard when he landed a role on an obscure little show called Game of Thrones. In the six-odd years since, he's pouted and brooded and been windblown into international fame.
This past year, in the wake of Jon Snow's possible (maybe unlikely) death, he's undergone an unprecedented level of scrutiny. Forget fame, forget autographs, nobody who goes to drama school thinks they're signing up to have their haircut analyzed — their every movement tracked. But in his downtime from playing Jon Snuuuh, he's made some valiant efforts to leave The North behind — though he should know by now that The North Remembers. Before we see him again on our screens dead or alive at the end of the month, let's revisit his efforts.
That Time He and His Abs Starred In a Gladiator Rip Off
Pompeii is a comically direct Gladiator rip-off with Kit Harington in the Russell Crowe "wronged warrior with the slain family" role, Kiefer Sutherland in the Joaquin Phoenix "sneering leader" role, Adewale Akinnuoye-Agbaje in the Djimon Hounsou "black best friend" role, and Emily Browning in the Connie Nielsen "woman of a higher station who falls in love with him because abs" role.
It's essentially two hours of Kit Harington as Jon Snow in Rome against the backdrop of the watered down Gladiator plot with none of its emotional resonance. We were not entertained.
That Time He Lent His Voice To A World With Dragons
In How to Train Your Dragon 2 Kit Harington gave his voice to Eret, a dragon trapper. It's a markedly different role from Jon Snow, but it's a world of dragons and boats and seaside cities, and the poor guy can't escape the long hair even in cartoon form. Still, it's a valiant effort.
That Time He Was Earnest And Moony-Eyed
In Testament of Youth, Harington stars as an earnest and moony-eyed suitor courting a headstrong woman into a rocky relationship against the backdrop of war. Luckily, their relationship doesn't end with a chest full of arrows for anyone, but he's Cleaned-Up Jon Snow in World War I.
That Time He Was A Tennis Star
The delightfully ridiculous Andy Samberg tennis mockumentary 7 Days in Hell stared Kit Harington as a serious yet dim-witted tennis player trying to beat Samberg, his ostentatious rival. Harington mostly plays the straight man to Samberg's absurdity, but it's a worthy performance simply because he does the best unexpected Blair Witch homage in existence. Odd as it sounds, this might actually be his best departure from Jon Snow.
That Time He Pretended He's Never Going To Be Jon Snow Again
Oh wait, that's every interview. You keep trying, Kit Harington. All Men Must Lie.