'Swiss Army Man' Trailer: Daniel Radcliffe's Farts Are Magic
Harry Potter is dead, and he's got terrible gas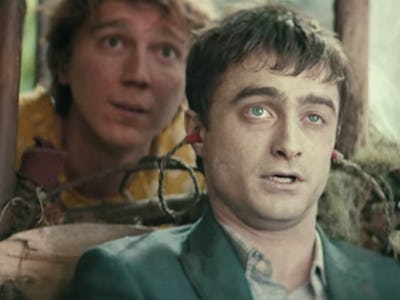 It was the most divisive film at this year's Sundance Film Festival, and now audiences can judge for themselves whether Swiss Army Man, the directorial debut of music video geniuses Dan Kwan and Daniel Scheinert is a work of genius or just pure insanity.
The first trailer for the film, which was bought by distributor A24 after its high-profile Sundance debut, works as a highlight reel for the indisputably impressive in-camera visual effects and endlessly creative sequences. Paul Dano stars as Hank, a man stranded on a desert island, whose life is so pathetic that he can't even kill himself. But it's a good thing that his noose fails, because right then, the world's most useful corpse washes up on the shore.
This is the most magical role that Daniel Radcliffe has played since Harry Potter, but where the boy wizard used a wand, the corpse (nicknamed Manny) uses his butt; his flatulence is so powerful that Hank can ride him across the ocean. His other skills include the ability to provide fresh drinking water from his mouth — which can also fire pebbles like bullets.
As goofy as it sounds, the film is actually a deeply emotional bromance, with the visual flair serving to liven up a story about a very desperate man. The trailer hints at the core themes of sadness and hope — something to which those who walked out of the movie in January might want to pay attention.