Faraday Future Breaks Ground on Massive Plant: "This Is the Fun Part!"
An executive says the electric car plant will be operational in two years, not four.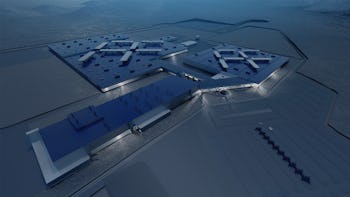 Faraday Future
Apparently there's a cheer among Faraday Future executives, when the fledgling electric car company needs a kick-start. It's simple and goes like this:
"This is the fun part!"
"Everyone expects [a slogan] from me and I will say it again, 'This is truly the fun part,'" said Faraday Future Vice President of Manufacturing Dag Reckhorn, as he leaned over a podium in a pristine event center on Wednesday afternoon. With floor-to-ceiling windows behind him that offered expansive views of the orange Nevada desert, he wore his sunglasses on-stage.
"We use that all the time when we cheer ourselves up to make the best cars and the best plant in the world," he said. "1, 2, 3: This is the fun part!"
Reckhorn was pumped. He was at a groundbreaking ceremony (livestreamed on YouTube, of course), for Faraday's massive new plant, which Faraday wants to open in two years instead of the projected four.
"For those of you who don't know us yet, we are a company of passionate creators from technology and automotive industries," Reckhorn said. "We are developing premium electric vehicles that offer extreme technology and intuitive connectivity."
The Chinese-backed, U.S.-based carmaker — it only unveiled its totally ridiculous concept car in January at CES in Las Vegas — will eventually hire 4,500 people when the plant is full operational over the next ten years. Half them will be from Nevada.
Reckhorn also said an "extensive nationwide search" ended with the city of North Las Vegas and its Apex Industrial Park, where the 900-acre plant will be built.
Its proximity to Vegas and its influx of tourists from all over the world appeared to be a factor as well: Early in his remarks, Reckhorn leaned into the microphone to say, "42 million visitors a year, we expect some of them to buy our car. We'll be very busy. Tell the visitors."
Before Reckhorn and Ding Lei — an auto-industry veteran brought on by Faraday-backer and Chinese tech giant LeTV — along with Faraday executive Tom Wessner and Nevada Governor Brian Sandoval could put their shovels in the ground outside, they unveiled a model of the plant:
"This project is big and complicated and yet our timeline remains aggressive. Our aim is to complete a project that would traditionally take four years," Reckhorn said. "We want to do it in half the time. And we still want to do a great job."
Worries about parts supplies — a reason for delays in delivering the Tesla Model X — were preemptively assuaged by Wessner, who said, "over 90 percent of the parts for our first vehicle are already sourced from North America, Europe, and Asia."
California may be the capital for electric cars in America with Tesla's Fremont factory, but Nevada will soon become its chief rival. About 420 miles to the northeast of Faraday's planned North Las Vegas factory is Tesla's Gigafactory — just east of Reno — which will soon begin making lithium ion batteries for Elon Musk's car company.
When completed, the Gigafactory will have largest footprint of any building in the world, Musk announced recently during the Tesla Model 3 debut event.
While there's work ahead — for instance, we don't know much at all about what sort of cars Faraday will make — it seems like, for Wednesday's ceremony, anyway, that for sure:
"This is the fun part!"