Faraday Future's CES Debut: 10 Things We Learned
by Sam Blum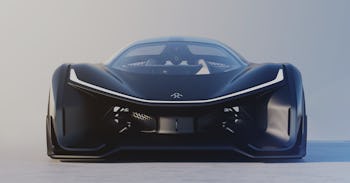 Faraday Future
Faraday Future unveiled its hyped concept car, the FFZERO1, on Monday at CES in Las Vegas. The prototype is a sleek and ostentatious vehicle that promises, at least conceptually, to move motorists from 0-60 mph in less than three seconds, and to incorporate all kinds of newfangled tech and design concepts. The FFZERO1 is "not quite of this world," Richard Kim, Head of Global Design at Faraday Future, said Monday.
10. The Car Moves Really Fast:
While extolling the vehicle's crazy dynamics and specs, Nick Sampson, the company's senior vice president of R&D, continuously stated that "we are fast," which isn't just an testament of how quickly FF has cemented a place in the industry, but of FFZERO1's mind-boggling speed. The vehicle promises a top-speed of 200 mph — 45 mph faster than Tesla's Model X. This is all made possible by the fact that FFZERO1 is a 1,000 horsepower vehicle.
9. It's a Car of Concepts, Not a Concept Car:
Senior staff repeatedly used bold language during the 48-minute presentation, insisting that that it's determined to "totally redefine the future of mobility," and that might be true, given its invention of "Variable Platform Architecture," which seeks to define a new platform for automobiles that prizes customization above all else. For example, under VPA, a car's size can be changed to allow for a different number of batteries, which would allow for the creation of different-sized vehicles under the same platform. VPA also allows for "different motor configurations" that allow for both two and all-wheel drive systems. The FFZERO1 has four motors at each wheel. For more on VPA, watch the video below:
8. Faraday Future is Setting up Shop Soon:
Sampson said the company is going to launch operations at its North Las Vegas production plant "in a few weeks." That's the first word anyone was heard on the matter since news of FF's factory broke last December.
7. Faraday Future Has the Backing of a Chinese Tech Giant:
The company has a strategic partnership with LeTV, a company that has been touted as the "Netflix of China." While the partnership has been indicated by some pretty scrupulous reporting already, the corporate "alliance," as Sampson put it, was publicly explained by FF senior staff for the first time Monday. LeTV's CEO Jia Yueting is apparently the primary investor — to the tune of $1 billion — for the production facility. LeTV, which also makes smartphones and things like connected TVs, will likely provide much of the car's "in-vehicle content" as production ramps up.
6. LeTV Might Give Faraday Future a Stronghold on the Chinese Market
Stacy Morris, primary spokesperson for Faraday Future, told The Verge: "We see the main markets being the U.S. and China, but it's a global-launch strategy. The way automakers need to enter the market is often through these joint partnerships, so our association with LeTV will be helpful in entering China." That should make FF competitive with Tesla in the ever-crucial Chinese market.
5. Its Economic Model is Fundamentally Different than Tesla's
Tesla has always enticed investors, earning large sums to innovate by courting the right people. Faraday's allegiance with LeTV means it might not have to scramble to find funding nearly as much as its biggest rival, and thusly might be able to focus on engineering more than anything else.
4. The FFZERO1 is Totally Ridiculous. Look at It:
The concept car, or "car of concepts," is the real-life version of the Batmobile or the K.I.T.T. from "Knightrider." For starters, the all-white interior is centered around a single seat which borrows from NASA products meant for zero-gravity situations. There's also a helmet meant to funnel water and oxygen to the driver, and Kim's description of the car's "UFO-line" design — basically a crease on the vehicle's side — poked at our imagination.
3. "Theres a Phone in the Steering Wheel
A smartphone dock situated in the steering wheel promises to offer real-time driving information, and the car will be able to project "augmented" reality visuals on the road ahead, Kim said. From the company's website: "Integration with driver's smartphone allows for remote vehicle setup, customized configurations, modifiable power outputs & real-time data visualization and outputs."
2. The Company is Scaling-Up its Rank and File
Much like Tesla, Faraday is expanding rapidly ahead of its factory opening, and has already hired a staff of nearly 1,000 employees: "We've assembled a team of 750 talented individuals from the likes of BMW, Tesla, Audi, Google, and Apple," Sampson said Monday.
1. This Car is Just a Concept
FFZER01 is just a model of what the car company wants to produce given its resources and talent. It "could see limited production," a company rep told The Verge, but it's unlikely it'll be be a common sight zipping around highways in China and the United States.
Sampson said the company wants the first market-ready Faraday vehicle on the street in "a couple years."