Faraday Future Unveils Its Concept Vehicle at CES 2016
The car was presented to a live audience and to the world through YouTube.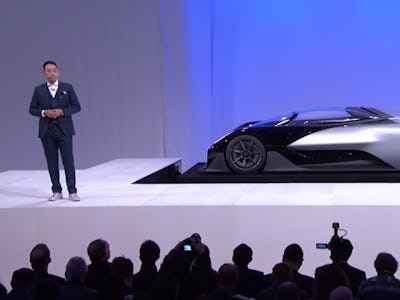 Faraday Future (YouTube)
Following months of online secrecy, the Faraday Future company revealed its concept car Monday at the 2016 International Consumer Electronics Show, both in person and live on the web.
The look of the vehicle had been discussed in the press for some time, but had not yet been physically revealed.
Nick Sampson, senior vice president of product research and development of Faraday first took to the CES 2016 stage at 11 p.m. EST to give the background and future plans for the company's concept car.
Making comparisons to inventive companies like Apple and Tesla, Sampson pitched that the Faraday vehicle was poised to use innovation to quickly change how the public views both driving and cars.
Following a speech from Ding Lei, Co-Founder and Global Vice Chairman, Sampson brought Richard Kim, Head of Global Design to the stage in order to fully introduce the car, which Kim calls a "high-performance, electric dream car," the FF Zero 1 Concept.
An all-white interior, the seat is at a 45-degree angle, with a drive-by-wire, asymmetric instrument panel. Kim tells the headrest hosts a safety system, with a head/neck support system, plus access to oxygen and water through a prototypical helmet (that wasn't featured). He added that "augmented reality" is projected on the road as "your digital copilot."
A smartphone is docked in the steering wheel, allowing the driver to access information, control secondary functions, and view live images without having to learn a new control language.
The body features aero-tunnels that allow air to pass through the vehicle as it moves, reducing drag, battery heat, and power consumption. It also has a crease in the body—a "UFO Line," intended to remind that this vehicle is, as Kim explained "not quite, of this world."
Following a final film of the car in motion, the three concluded the presentation, departing to applause as the camera took some final looks at the Faraday Future Zero 1.