Apple, Google Devices Won't Fry When Connected to USB-C Chargers Anymore
But the damage may have already been done.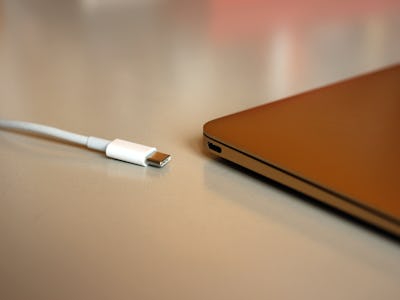 Maurizio Pesce / Flickr
USB Type-C promised a solution to the most common and pervasive tech problem affecting consumers in offices, classrooms, and households today — the constant struggle to find a compatible phone charger. But faulty third-party cables have put a dent in wide-scale adoption of the technology, and it's unclear if the announcement this week of a new authentication system for the connector is enough to bring users closer to the dream of one universal charger to rule them all.
For all of its benefits, the fact that faulty USB Type-C cables can completely fry consumers' expensive devices with one plug in is a scary reality that's hard to overlook. The USB 3.0 Promoter Group comprised of Hewlett-Packard, Intel, Microsoft, Renesas Electronics, STMicroelectronics, and Texas Instruments, on Tuesday announced the rollout of a potential solution it hopes will allow the technology to continue its dominance across devices.
Essentially the cable will now be able to communicate with the host device to determine if the charge is compliant before any power starts flowing into the device. A cable that provides uneven or unexpected power, can utterly destroy a user's laptop, tablet, or phone.
"USB is well-established as the favored choice for connecting and charging devices," Brad Saunders, USB 3.0 Promoter Group Chairman, says in a [release] about the new move to standardize the quality of cables. "In support of the growing USB Type-C ecosystem, we anticipated the need for a solution extending the integrity of the USB interface. The new USB Type-C Authentication protocol equips product OEMs with the proper tools to defend against bad USB cables, devices, and non-compliant USB Chargers."
The problem caused Benson Leung, a Google engineer, to start testing as many cables as he could — reviewing the cables for their speed and notifying potential buyers of faulty ones. But, one man's reviews can only do so much, and a more permanent solution was needed.
Apple adopted USB Type-C in the latest MacBook, and it was once anticipated it would come to the iPhone 7, however that now looks increasingly unlikely. Google's Nexus devices adopted it, and in the past month it's confirmed that LG, HTC, and Huawei are all adopting it in their latest phones and some laptops. Samsung's newest phones are, however, notable USB Type-C hold outs.
Of course, consumers in need of extra or replacement cables for their USB Type-C devices could simply buy the name brand cables from big manufacturers, dispelling any need to worry about compliance assurance or potential electronics fires. But darn it if third-party cables aren't always so much cheaper …