Here's Where You Can Watch the Original 'Star Wars' Trilogy in Theaters This Summer
Episodes IV, V, and VI are all coming back to the big screen.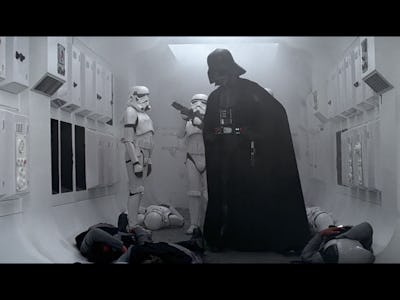 YouTube
Thanks to the art-house defenders of classic film, Alamo Drafthouse, the three original Star Wars films will be back on theater screens across the country this summer. A New Hope, The Empire Strikes Back, and Return of the Jedi will screen in select theaters in most major cities across America during a summer-long Drafthouse roadshow feeding the unstoppable hype-beast that is the rejuvenated Star Wars franchise.
Drafthouse knows a thing or two about feeding the hype: they're showing Alien and Aliens back to back on "Alien Day," or April 26, and are famous for screening Jaws on the middle of a lake. Now, their Rolling Roadshow is taking on Star Wars, screening all three films back-to-back-to-back in one massive six-hour, 28-minute space epic. There will be video content, games, contests, and props to make the experience wilder than a rancor on death sticks in between films.
If you need to catch up on the original films before Rogue One hits screens in December, now's the chance. Kids, especially, haven't had this good of a chance to see the original Star Wars on the big screen since the Special Edition theatrical releases in the '90s. Unfortunately for purists, the screenings will be Special Edition versions, not the original theatrical cut, but beggars can't be choosers and there are always fan-made edits that try to right George Lucas's micromanaging and shoddy special effects.
The "Return of the Trilogy" roadshow will play in the following theaters, with more dates to come as Drafthouse figures out the details, so keep checking their website to see if your city pops up:
August 6 – San Francisco, CA / The Warfield
August 6 – Kansas City, MO / The Midland Theatre
August 6 – Washington, D.C. / Warner Theatre
August 6 – Los Angeles, CA / The Theatre at the Ace Hotel
August 6 – New York, NY / The Town Hall
August 6 – Miami, FL / Olympia Theatre
August 6 – San Antonio, TX Majestic Theatre
August 7 – New York, NY / Kings Theatre
August 7 – Dallas, TX / Majestic Theatre
August 11 – 13 – Austin, TX / The Long Center for the Performing Arts
August 13 – Philadelphia, PA / The Keswick Theatre
August 13 – Louisville, KY / Brown Theatre
August 20 – Oakland, CA / Paramount Theatre
August 27 – Boston, MA / The Boston Opera House
Date TBD – Houston, TX / Venue TBD
Date TBD – Denver, CO / Venue TBD