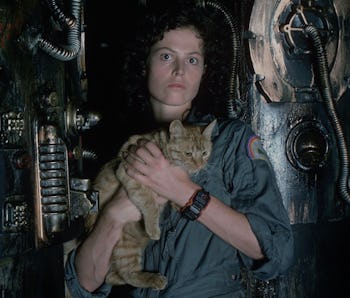 Entertainment
Alamo Drafthouse Gives Us a Reason to Be Pumped for 'Alien Day'
The theater chain is holding special double-feature screenings of 'Alien' and 'Aliens' on 4/26, and Sigourney Weaver will attend in NYC.
Drafthouse
In space, no one can hear you scream. But we're pretty sure everyone will be able to hear you jump for joy at the upcoming special screenings of Alien and Aliens at the Alamo Drafthouse in honor of "LV-426 / Alien Day." The Austin-based theater chain has announced details of their collaboration with 20th Century Fox for special double features of Alien and Aliens at Drafthouse locations around the country. The events will celebrate Alien Day on 4/26, the date that corresponds to LV-426, the desolate moon where the acid-blooded extra terrestrials were first discovered in the films. With director Ridley Scott currently hard at work at a new sequel, titled Alien: Covenant, it's a great time to be a fan of the Alien franchise.
Besides creating exclusive collectibles for the occasion — including new posters, vinyl reissues, and apparel like a pretty killer Ripley t-shirt designed by artist Jay Shaw through their licensing brand, Mondo — Drafthouse is holding three very special screenings in New York, LA, and Chicago that will feature original cast members in attendance for both films.
According to a press release:
"Star and Academy Award nominated and Golden Globe winner Sigourney Weaver - Ellen Ripley herself - will be on hand for a screening of Aliens at New York City's Town Hall. Meanwhile, in Los Angeles, Jenette Goldstein - AKA the tough-as-nails Private Vasquez - and Carrie Henn - the indomitable Newt - will be in attendance for Aliens at The Theatre at the Ace Hotel - just around the corner from where Alamo's first LA location is now under construction. And last but not least, Alamo and Mondo will co-present a terrifying Alien + Aliens double feature at Chicago's beloved arthouse titan, The Music Box Theatre."
"We're all massive fans of the Alien franchise so being able to host these epic screenings with Sigourney herself in New York, Jenette and Carrie in Los Angeles before we even have our own theaters open in those cities is just insane," Alamo VP of Special Events, Henri Mazza, said in the press release. "These are three of the most iconic and badass female protagonists ever committed to film, to celebrate ALIENS' 30th anniversary with them is a real honor."
Leave it to the geek cinephile's paradise of the Drafthouse to give fans something to care about for Alien Day other than some replica Reebok sneakers. Where other fan celebrations like Back to the Future Day or Star Wars Day are legitimately connected to specific dates, Alien Day is kind of arbitrary.
20th Century Fox didn't even wait for the actual 30th anniversary of the movie, July 18 of this year, for some xenomorphic pomp and circumstance. Until now, the day was a kind of made up and meaningless celebration conceived by Fox's marketing team, and now at least the Drafthouse is putting the emphasis on the movies themselves and backing it up with some spiffy collectibles.
Check out the new website set up by the Drafthouse, AlamoAliens.com, for more information about screenings in your area.