Original 'Star Wars' Theatrical Cut Rumored to Hit Blu-Ray Soon
A friend of George Lucas mentioned the possibility in an interview.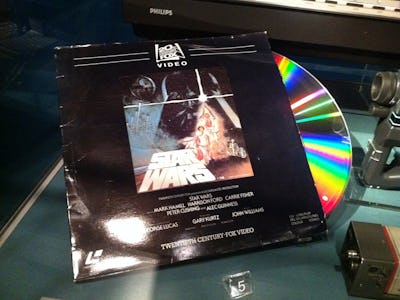 www.flickr.com/photos/jameswest
The original Star Wars trilogy has been released, remastered, edited, re-released, and redone in just about every iteration possible … except one. Last month I questioned the difficulty in getting the original, untouched theatrical cuts in consumer formats. Given the ubiquity of Star Wars, it's absurd not to be able to have them available. But today we have a new hope.
There have been rumors of a theatrical edition Blu-ray of the original trilogy ever since Disney bought Lucasfilm in 2012, but it never came to fruition. The latest round of speculation comes from American Werewolf in London Director John Landis. At a Q&A at Universal Studios' Halloween Horror Nights, the director let slip that he spoke to former Star Wars mastermind George Lucas. Word is we may finally get HD versions of the theatrical cuts just in time for The Force Awakens in December.
According to Empire Magazine, Disney is finally planning to drop the holy grail of nerd culture on all of us.
This is awesome, but we should be cautious. Why would Landis just spew this information out at some theme park Q&A? How would he even know in the first place? Why would George Lucas know this information even though he's been virtually cut off from the Lucasfilm braintrust? And if it is true, why haven't Disney and Lucasfilm announced these already to ensure maximum Star Wars saturation until the new movie hits in December? These are all legitimate questions without solid answers. The Blu-ray release, for now, stands at mere conjecture.
The other snag is that 20th Century Fox owns the rights to Episode IV in perpetuity. A big box set between Fox and Disney would amount to a licensing rights miracle. We'd be lucky if that happens. But like Obi Wan once said, "In my experience there's no such thing as luck." We'll keep you posted.