Watching 'Jaws' on a Lake Is a Texas Tradition in the Making
Watching 'Jaws' on dry land is for wimps.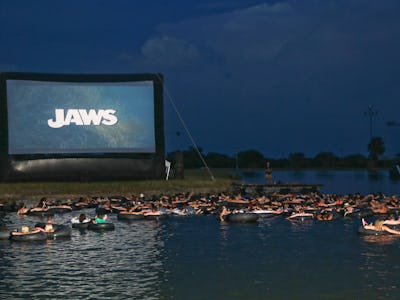 Jack Plunkett
This summer marks the 40th anniversary of the release of Steven Spielberg's Jaws. To honor the godfather of all blockbuster's middle-agedness, the good folks at the Alamo Drafthouse are resurrecting a movie-watching tradition like no other and screening the film to audience members sitting on (or swimming near) inner tubes in a Texas lake.
According to Henri Mazza, Drafthouse's VP of special events, the idea is the brainchild of CEO and founder Tim League. "Around Austin it's been sort of this legacy and fabled crazy thing from years ago," said Mazza. "In casual meetings with other people it often comes up. We'll be chatting with people who are only vaguely familiar with the Alamo and they'll say things like 'aren't you the crazy people who showed Jaws on a Lake in Austin somewhere?'"
The initial dates, including the screening this weekend, immediately sold out, but they've added a couple more through August; so, if you're a Jaws fan in the Austin area, get on it. Or, maybe don't. This might not be a once-in-a-forever experience after all.
"We continue to add shows to accommodate demand and think this will become an annual summer cinematic tradition," Mazza says.
The events are apart of the Rolling Roadshow series, which includes previous ridiculously awesome immersive movie events like showing Escape From Alcatraz on Alcatraz Island, screening Close Encounters of the Third Kind at Devil's Tower, and showing A Fistful of Dollars in El Sotillo, Spain.