'Fear the Walking Dead: Dead Run' Is a Slick and Mindless Runner for Mobile
Kill zombies while you kill time on iOS.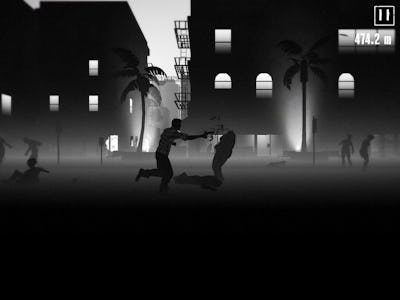 Versus, AMC
Accompanying its second season premiere last night, AMC and game studio Versus Evil unleashed Fear the Walking Dead: Dead Run, a stylish mobile runner available on iOS devices. Based on the TV spin-off Fear the Walking Dead, the new game is a bloody, side-scrolling Temple Run with a fuzzy black and white look, like Limbo, but isn't as addictive as the former or engaging as the latter. Rather, it's just a slick time waster for when you need to kill some minutes.
The controls are absurdly simple, which is a good thing: Your character (based on those in Fear the Walking Dead; you start out with Nick) runs on his own with walkers and civilians in their way. Tap walkers on the screen literally anywhere to shoot at them, and you get bonus points for saving civilians. You reload by tapping the gun icon at the bottom right corner of the screen, and switch weapons by tapping the weapon next to it. Easy! And you can resupply shooting random fire-hydrants with ammo signs on top of them (???).
Looking into Dead Run any more than that is over thinking it. This isn't HearthStone, this is a mobile app meant for when you're in line at the DMV. There is a story mode, with levels cut up into "episodes" set in various settings around urban Los Angeles (although it's all in comic book black and white so they look the same, practically).
Is Dead Run fun? Sure, if this is your kind of thing. Is it addictive? I'm immune to clans clashing and birds being angry, so I stopped playing after about ten minutes. But someone — maybe a certain United States President is sure to find something stimulating about shooting zombies with a few quick taps.
Fear the Walking Dead: Dead Run is available now on iOS. Sorry, Android.