Toyota Breaks From Google and Tesla's Approach to Self-Driving Cars
Toyota's "Guardian Angel" is a smart co-pilot for drivers.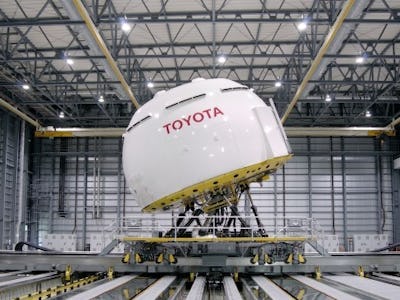 MIT Technology Review
Toyota revealed its approach to self-driving cars this week at NVIDIA's GPU Technology Conference and it's much different than what consumers have seen from Google, Uber, or Tesla, opting more for a "Guardian Angel" system which would act as a smart co-pilot for drivers.
The system would take over for drivers once a crash is imminent, hopefully preventing crashes and saving lives. Testing will begin soon by placing cars in an enormous simulator housed in a facility the size of two football fields near Mt. Fuji in Japan.
"Our plan is to see how humans will respond when the car temporarily takes control because it knows better," said Gill Pratt, CEO of the Toyota Research Institute, during his keynote address Thursday. "So far the steering wheel always points in the direction the wheels go; that's always been true up until now."
Pratt talked about how fully autonomous vehicles would need to be perfect in order to be effective given the size and scope of Toyota. He estimates the Japanese company has about 100 million vehicles on roads, each driving 10,000 miles annually, which comes out to about 1 trillion miles per year.
He figures with those kinds of numbers it would only take a few defects in the sensors or software to cause an "existential crisis" and cause consumers to lose faith in the technology. That's why Toyota is investing in its Guardian Angel system as a middle ground between the status quo and fully autonomous cars.
Google's self driving car got in its first minor collision earlier this year with a bus, and the autopilot feature in Tesla cars is less than perfect, but these companies are going all in on fully autonomous cars, going as far as to even take the steering wheel away.
Toyota isn't abandoning driverless cars entirely though. The company announced last year it is investing $1 billion in artificial intelligence both in cars and in home appliance robots in part to help solve the problem that more than 30,000 people in the U.S. die every year from motor vehicle accidents.
The company announced Thursday that it's further expanding the newly formed Toyota Research Institute with a third center in Ann Arbor, Michigan, where it will partner with students and faculty from the University of Michigan, much like it has at its other two locations around Stanford and MIT.