'Fear the Walking Dead' Season 2: 4 Things That Need to Happen
After Negan, 'Fear the Walking Dead' will have its work cut out to keep AMC's zombie-hungry audience watching.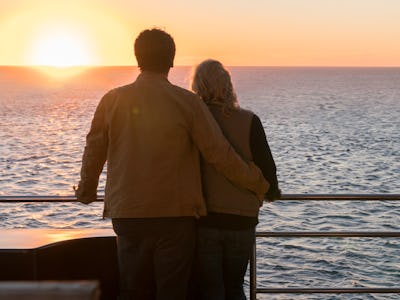 AMC
Negan has bashed his way onto The Walking Dead, but the apocalypse has only begun in the AMC zombie spin-off/prequel Fear the Walking Dead, which is set sometime before the events of main show.
The show returns for its second season this Sunday on AMC, and it won't take much to surpass its middling first season. But now that the zombie apocalypse is in full swing, here are some things Fear the Walking Dead seriously needs to do to keep us tuned in.
Explain the virus.
During Season 1, show runner and Walking Dead comics writer Robert Kirkman explained that learning about the original virus is not the in the cards for Fear the Walking Dead. "Every other story deals with that stuff, and we're concerned about the heart," he said at a panel in Las Vegas.
This was a mistake, and hopefully one creators will correct. That's what The Walking Dead is for: getting into the heart of madness you are powerless to change. Survivors in Fear the Walking Dead are still powerless, but the show was a prime opportunity to explore the origins that made up the world's #1 zombie drama.
Plus, it doesn't make sense that a massive, world-changing event happens and a show that purports to be its prequel doesn't explained how the event transpired. We shouldn't get a literal classroom history lesson like in Wayward Pines, but something more definite would suffice.
Connect, however barely, to The Walking Dead.
I'm not asking to see Norman Reedus or Andrew Lincoln pop in for a cup of coffee, but it would be nice to know Fear the Walking Dead is definitively set in The Walking Dead universe. As it stands, Fear is independent of primary Walking Dead, however purposeful it is by design. Maybe that's a good thing, but for longtime Walking Dead fans, a nice solid connection to the world of Rick and his world to Travis's would be appreciated.
Does it matter to the story? No. But because of how actually different the urban, now oceanic (in Season 2) environment made Fear the Waking Dead so vividly different from the southern woods of The Walking Dead, it feels like watching two different shows that coincidentally share a title. For fans of both, a simple high five for sticking around would be, if nothing else, just kind of cool.
Marvel knows how to do expansive universes. Inconsequential props call back to The Avengers, there are minor references to the Marvel heroes, but you actually don't need to see any Iron Man or Captain America movies to get Jessica Jones. But it helps.
See the rise of walled-off societies.
When Rick wakes up in The Walking Dead the world had just adjusted to its zombie dominance. As the show continued it explored places like Woodbury and later Alexandria, already up like well-oiled machines and Rick and his group coming in, awkwardly bumping at the fine upholstery.
But what kind of hardships did it take to build something like that? It must be like Minecraft, working like dogs to make something livable while fending off walkers every day and night. I'd personally love to see that drama, and Fear the Walking Dead is a fantastic chance to let Walking Dead faithful at last see the blood, sweat, and I imagine lots of tears it takes to not only destroy, but to build.
Just tell us what's up with Victor Strand.
Dude is super eloquent, mysterious, and always wearing a fine suit in the middle of the world going to hell. No games, please. Just tell us what's up or else it'll be as bad as the reactions to Negan.
Fear the Walking Dead begins Sunday, April 10 on AMC.