Judge Says Lyft's $12.25 Million Settlement Would "Shortchange" Drivers
San Francisco District Judge Vince Chhabria wants some answers before he rules.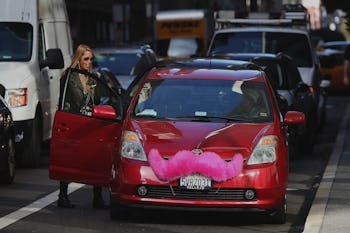 Getty Images/ Justin Sullivan
A San Francisco Judge has decided that Lyft isn't getting off easily in its ongoing court case against a group of drivers, who filed suit against the ride-sharing company, claiming they should have been classified as employees, not independent contractors.
Drivers for both Lyft and Uber are technically categorized as independent contractors, not employees, which means their parent companies have no responsibility to reimburse them for mileage expenses or provide benefits like healthcare. Court documents reported by Reuters last month say that Lyft saved an estimated $126 million by not treating their drivers as employees, which works out to an average of $835 per driver in back-expenses at the Federal mileage reimbursement rate. Lyft tried to settle the case for $12.25 million, but San Francisco District Judge Vince Chhabria rejected their settlement, wanting more information about the nature of the lawsuit before allowing it to end.
Chhabria's decision claimed that the $12.25 million settlement was way too low — Lyft's lawyers initially estimated the reimbursements were worth about $64 million, but after the $126 million figure came out Chhabria said the "drivers were therefore shortchanged by half on their reimbursement claim alone."
Chhabria also thought allowing the low-ball settlement to go through would pretty much give the OK for Lyft to classify its drivers as contractors, not employees.
"If that is correct," he wrote in his decision, "is this aspect of the settlement agreement contrary to the original goal of the lawsuit?"
Lyft disagreed. Their proposed settlement would have paid out to the drivers and given them some benefits, like mandating advance notice if they were going to be removed from the app, but would still have been a lot cheaper than changing their classification to employees.
"We're disappointed in the preliminary ruling," a Lyft spokesperson told The Verge "We believe we reached a fair agreement with the plaintiffs and are currently evaluating our next steps."
While the drivers had been prepared to take their settlement, Chhabria's ruling definitely falls in their favor.
"We are hopeful this settlement can be improved to meet the judge's concerns," Shannon Liss-Riordan, the attorney for the Lyft drivers, told The Verge. If not, we look forward to taking this case to trial as well."
The case could establish a pretty significant precedent for Uber as well. The other major U.S. ridesharing company is in the middle of a near-identical suit, which will go to trial in June. Uber drivers recently won the right to unionize in Seattle, but are still classified as independent contractors as well.